Balance of Power: The Far-Right Comes Out of the Shadows
By and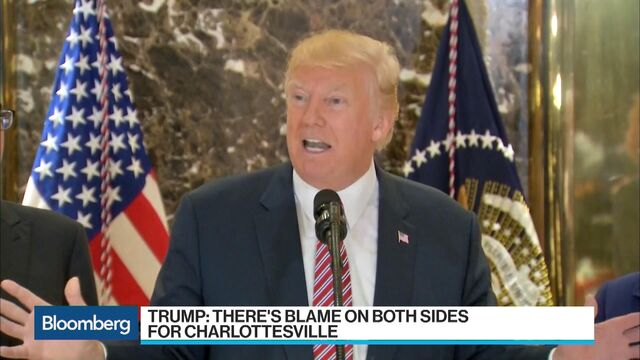 Far-right politics are coming out of the shadows on both sides of the Atlantic. 
In America, Donald Trump's refusal once again to unequivocally condemn the white supremacists of Charlottesville during a combative press conference yesterday has sparked outrage, even among Republicans. In Germany, the anti-immigration AfD party is running in third place in some polls before next month's election. And it's just a few months since Marine Le Pen took 34 percent of the vote in France.
Of course, there are big differences between Nazi-saluting extremists in Virginia and Europe's main far-right parties, which disavow violence and seek a democratic route to power. It's also true that none of these groups are going to be in government soon. It's a fringe-movement in the U.S., and Angela Merkel's brand of pro-immigrant liberalism may well cruise to victory in Germany on Sept. 24.
But the anger and discontent that fuels them are here to stay, a fact clearly recognized by Trump during the campaign and now in the Oval Office. Ideas about immigration and identity that were once deemed outlandish are now being aired on the front pages in Europe and the U.S., with outcomes that are hard to predict. 
Expect more provocation and fury to come.

Sign up to receive the Balance of Power newsletter in your inbox, and follow Bloomberg Politics on Twitter and Facebook for more.
Global Headlines
Trump drags GOP onto dangerous ground | The president is facing growing condemnation from Republicans following his explosive and combative comments yesterday that equated neo-Nazis to counterprotesters in Charlottesville by saying there's "blame on both sides" for the violence. As Justin Sink and Margaret Talev explain, Trump's remarks caught his own aides off guard and forced Republicans into a conversation about a topic they see no political benefit in speaking about: race.
Nafta overhaul | Sparks could fly when U.S., Canadian and Mexican envoys meet Wednesday to start reworking the North American Free Trade Agreement. Trump has called it the worst trade pact in history, blamed it for millions of lost manufacturing jobs and vowed to fix it or rip it up. As Greg Quinn and Eric Martin report, each country has a list of must-haves, some of which could be deal-breakers.
Israel's UN bid | The Jewish state is fighting an uphill battle to win a spot on the United Nations Security Council next year. Routinely denounced for its West Bank and East Jerusalem settlements, Israel won't get much support from the 57 Organization of Islamic Cooperation countries. Still, Premier Benjamin Netanyahu has toned down his criticism of what he says is anti-Israeli bias, and he has a powerful ally in Trump.
Merkel's feel-good economy | Germany's humming economy may be the main stumbling block to Social Democratic Party leader Martin Schulz's bid to unseat the chancellor. The country lacks the kind of discontent that fueled Trump, Brexit and Le Pen: The populist AfD is driven more by anti-immigration sentiment than economic anger. That feel-good factor makes Schulz's focus on inequality a hard sell. 

More China tension for India | A troop standoff along its disputed border with China isn't India's only worry: a weaker yuan is intensifying the inflow of cheap Chinese goods, threatening to blow out its biggest bilateral trade gap and hurt manufacturing. India's government must "reduce dependence on such frivolous Chinese imports," says Soumya Kanti Ghosh, chief economic adviser at the State Bank of India.
Abe watches his back | While Japan's opposition is wracked by infighting, Prime Minister Shinzo Abe, whose popularity has dropped in recent months, still faces risks to his leadership — from within his own Liberal Democratic Party.  As Isabel Reynolds explains, the LDP has half a dozen factions, some less loyal to Abe. Some are even headed by senior party lawmakers who may yet contest Abe for the party leadership in a September 2018 vote.
And finally... Barack Obama's response to the deadly violence in Charlottesville just broke a Twitter record. The former U.S. president's Aug. 13 tweet quoting Nelson Mandela became the most "liked" post in the history of the social-media platform. According to Twitter, it officially broke the record Tuesday at 10:07 p.m. ET, surpassing pop star Ariana Grande's post after the terrorist attack at her concert in Manchester.

— With assistance by Alan Crawford, Sarah Muller, and Vivianne Rodrigues
Before it's here, it's on the Bloomberg Terminal.
LEARN MORE