Ackman Ramps Up Pressure on ADP as He Makes Case to Investors
By
Pershing Sqaure to detail investment plan in webcast Thursday

Activist investor expected to seek better margins from ADP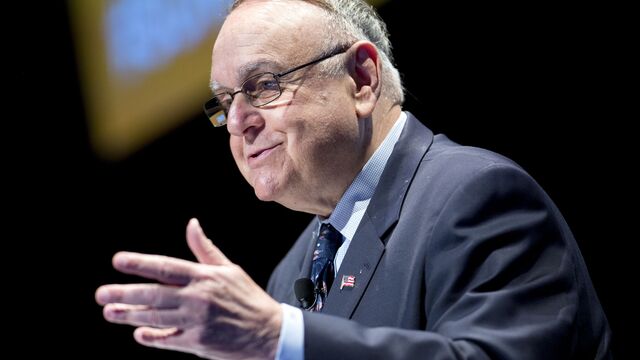 Investors are about to get their first look at Bill Ackman's plans for improving the performance of Automatic Data Processing Inc., which the activist investor contends is losing ground to smaller rivals.
Ackman will make his case for changes at the payroll and human resources outsourcer during a webcast Thursday morning. The billionaire agitator, who has disclosed few details of his plans for ADP, said Wednesday that he sees an upside similar to when he took a stake five years ago in Canadian Pacific Railway Ltd. Ackman's hedge fund Pershing Square Capital Management has reaped $2.6 billion in profit from that investment.

All Ackman has said so far is that ADP needs to improve its software and service offerings, significantly reduce costs and improve its efficiency. That's left some observers scratching their heads because the Roseland, New Jersey-based company has returned 202 percent to shareholders since Chief Executive Officer Carlos Rodriguez took the helm in 2011.
"Pershing's disclosures have been limited; however, we assume a focal point will be margins," David Grossman, an analyst at Stifel Nicolaus & Co., wrote in a note to clients. "That said, our analysis suggests ADP's margins are reasonable based on its business model."
ADP's profitability is dramatically lower than its smaller rival, Paychex Inc. Rochester, New York-based Paychex has reported margins of about 43 percent for earnings before interest, taxes, depreciation and amortization for the past three years, while ADP reported a 22 percent margin for the year ended June 30, according to data compiled by Bloomberg.
Grossman said Paychex isn't an apples-to-apples comparison because its business mix is different from ADP's. Paychex primarily focuses on the small-business segment, which tends to have higher margins. Only about 20 percent of ADP's business falls within that category, he said.
ADP's Transformation
Ackman's push for changes at ADP could be a net win because it will focus attention on the company's earning potential, said Tien-Tsin Huang, an analyst with JPMorgan Chase & Co. He said ADP has already taken steps to transform itself from a legacy payroll company without sacrificing short-term results.
"Putting a spotlight on the earnings power at ADP seems healthy for the stock and could provide cover for the team to do more," Huang wrote in a note to clients. "We believe the current management team is best equipped to execute and decide what's best for shareholders."
The proxy battle will likely focus on the margin improvements in ADP's international and non-small business segments, Huang said. He estimates they could reach the mid-teens, relative to what he called "imperfect comparables" ranging from 11 percent to 26 percent.
There is some evidence that ADP isn't getting the most out of its various businesses. CDK Global Inc., an integrated information technology and digital marketing company for the auto retail sector that was spun out from ADP in 2014, saw dramatic improvement to its margins after it became an independent company.
Spinout Success
CDK's Ebitda margins grew from about 21 percent in fiscal 2014 to almost 30 percent for the year ended June 30, according to data compiled by Bloomberg. Adjusted earnings per share rose 60 percent over that period, the data show.
Still, Ackman will have to win over investors if he wants to get his slate of three candidates, including himself, elected to the board.
ADP, which handles the paychecks of 26 million U.S. workers, has so far resisted Pershing Square's demands. The company said Ackman originally wanted five seats on the company's 10-member board, a proposal the company said it rejected along with possibly replacing Rodriguez. ADP said in a statement last week that it would review Ackman's revised slate of nominees and their ability to add value to the board.
Rodriguez, in an Aug. 10 interview on CNBC, likened Ackman to a "used car salesman" and compared his request to extend the nomination deadline to a "spoiled brat" asking a teacher for more time to complete an assignment.
Attractive, Unlevered
Ackman said on the conference call Wednesday that ADP could have avoided a fight if its board had granted him a one-week extension of the Aug. 10 deadline to nominate directors.
ADP is an attractive investment because it's a simple, predictable, free-cash-flow generating business that is unlevered with net cash on its balance sheet, Ackman said. Pershing Square said it raised more than $500 million in outside capital to join in its ADP investment, a new fund known as Pershing Square VI.
In the Canadian Pacific battle, Ackman led a successful proxy fight to oust then-Chief Executive Officer Fred Green after years of underperformance. Green was eventually replaced by former Canadian National Railway Co. CEO Hunter Harrison, who turned Canadian Pacific from the least-efficient North American railroad into one of the best performing.
"We got something like 90 percent of the vote from shareholders," Ackman said.
Pershing Square's original goal was to achieve a share price of C$150 at Canadian Pacific. The company's shares closed Wednesday at C$194.42 in Toronto.
Ackman said he'd hoped Pershing Square's investment at ADP would have been similar to its approach at Air Products & Chemicals Inc., where discussions were held in private and details weren't made public.
Not all of Ackman's investments have been as fruitful. A high-profile investment in Valeant Pharmaceuticals International Inc., sold in March, cost Pershing Square $4 billion. His stake in Chipotle Mexican Grill Inc., meanwhile, has been hit by renewed food-safety concerns and is worth almost $190 million less than when he acquired it last year.
— With assistance by Kailey Leinz, and Natalie Wong
Before it's here, it's on the Bloomberg Terminal.
LEARN MORE