Lawmakers Seek Legal Advice on Handling Protesters
By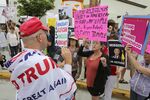 Lawmakers back home for the August recess have been feeling the heat from angry constituents and activists. Some of these members have been asking the top U.S. House staff lawyer to tell them where, exactly, they can legally draw lines on activities like protests and videotaping.
"There has been an increased number of calls to my office seeking advice on the legal issues surrounding the First Amendment and state recording laws," U.S. House General Counsel Thomas Hungar wrote in a memo Monday to all lawmakers that was obtained by Bloomberg. Hungar doesn't elaborate on specific incidents and declined requests for a comment. But members -- mostly Republicans -- have been yelled at and videotaped during town halls. Others have been picketed at their district offices, or even near their homes, mostly over GOP efforts to repeal Obamacare.
Hungar suggested to members that they contact his office "with respect to policies relating to social media and public events (such as town halls)." Hungar said he's getting questions relating to permissible procedures for handling public comment periods or recording at town halls, how staff should deal with inappropriate comments on official social media accounts and where security cameras can be placed withing district offices?
Scott Michelman, senior staff attorney at the ACLU of the District of Columbia, said that "we're seeing an uptick" of public participation in expressions of opposition to actions in Washington. He added that it's "a good thing" advice is being offered and sought by members so they understand the full scope of their constituents' First Amendment rights.
Before it's here, it's on the Bloomberg Terminal.
LEARN MORE