Carney's Promised Rate Hikes Less Convincing as Inflation Stalls
By
BOE governor warned that markets are underpricing rate rises

U.K. inflation rate lower than economists expected in July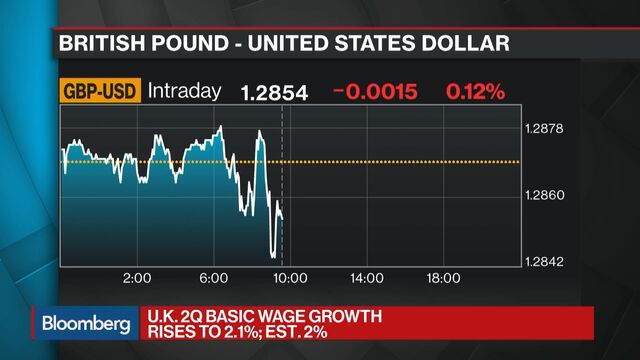 Add weaker inflation to the reasons why Mark Carney is having a tough job convincing investors to bring forward their bets on Bank of England interest-rate increases.
A report Tuesday showed consumer prices increased 2.6 percent in July, less than the 2.7 percent rate forecast by economists. The pound fell after the report, as it did two weeks ago when the governor's message that investors are underestimating the path of rate increases was drowned out by cuts to the BOE's growth forecast and his economic concerns about Brexit.

The inflation data provide further evidence of the difficulty the BOE faces in preparing the ground for higher borrowing costs against the backdrop of worsening economic indicators and continued uncertainty about Britain's exit from the European Union. Economists in a Bloomberg survey this month cut their forecasts for growth this year and next.
"There is now a very real chance that U.K. inflation will dodge reaching 3 percent in the latter months of this year, although it may well edge a little higher in the near term," according to Howard Archer, an economic adviser at EY ITEM Club. "We doubt that there will be any interest rate hike until at least late on in 2018 - and it could well be delayed."
Despite Carney's overtures since February, and with two officials seemingly entrenched in their votes for an immediate rate hike, investors are still not fully pricing in an increase until early 2019, around the time economists also expect the first move. Carney warned on Aug. 3 that bank rate would probably have to rise by more than the two quarter-point increases implied by short-sterling futures over the next three years.
Unreliable Boyfriend
The disconnect between market expectations and BOE rhetoric may also have some of its roots in the earlier days of Carney's tenure. The governor has drawn criticism in the past for sending mixed messages to investors on the timing of rate increases, with one lawmaker branding him an "unreliable boyfriend" in 2014.
Tuesday's inflation data also provided scant evidence that the squeeze on consumers is abating, with a measure of retail price inflation unexpectedly accelerating to 3.6 percent. That reading will be used by rail carriers to set future fares increases, heaping misery on workers whose earnings are failing to keep pace.
The U.K. economy will lose more momentum this year than previously forecast and inflation's peak may be lower than previously thought, according to the Bloomberg survey of economists. Growth is likely to slow to 1.2 percent in 2018, the least since 2009, when output was shrinking.
Although the headline rate of inflation is expected to remain well above the BOE's target rate of 2 percent, that overshoot is fully explained by the decline in sterling since the U.K. voted to leave the EU rather than domestic price pressures, according to Bloomberg Intelligence economists Dan Hanson and Jamie Murray.
"It will take evidence of a pickup in domestically generated inflation to alter the Monetary Policy Committee's thinking -- that looks unlikely in the near term," they said.
— With assistance by Jill Ward
Before it's here, it's on the Bloomberg Terminal.
LEARN MORE