Remarks
The Real Losers in Air Berlin's Demise
Lufthansa pounces while Ryanair grouses
By and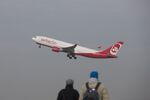 Ever since Air Berlin Plc sold shares to the public more than a decade ago, the fortunes of Germany's second-biggest airline have been in steady decline with a revolving door of executives, mounting losses, and ever-more-desperate turnaround plans.
That slow-motion descent ended in an emergency landing Tuesday, when Air Berlin filed for insolvency after leading shareholder Etihad Airways PJSC withdrew financial support. Weeks before an election where Angela Merkel will seek a fourth term, the German government was forced to step in with a loan to keep Air Berlin's planes flying through the busy summer vacation season—and at least until November.
Yet as ripe with losers as Air Berlin's history has been, there are also beneficiaries in the airline's collapse. Deutsche Lufthansa AG, the No. 1 airline in the country, has attempted a creeping takeover of Air Berlin ever since its rival's woes deepened. Lufthansa was quick to assume the role of rescuer, saying it supports Air Berlin in its restructuring effort and will engage in swift negotiations to absorb more of the troubled carrier.
"For Lufthansa we see any moves as defensive—blocking other more competitive airlines from expanding," RBC Capital analyst Damian Brewer said in a note to clients.
That points to faster consolidation of the travel sector in Europe's largest economy, where airlines compete increasingly on price. Low-cost specialists EasyJet Plc and Ryanair Holdings Plc have muscled forcefully into the German market, aggressively pushing into Frankfurt and Berlin.
Ryanair needed no time to snap at Lufthansa's helping hand, saying Air Berlin is being "set up" for an acquisition by its bigger rival, and that such a move would be in breach of antitrust regulation. The Irish carrier said the government's pledge of 150 million euros ($176 million) in aid to keep Air Berlin operating will "drive domestic airfares in Germany even higher than they already are," according to a statement by Ryanair. "German customers and visitors will suffer higher airfares to pay for this Lufthansa monopoly."
Air Berlin's latest turnaround included cutting its fleet in half by leasing planes to Lufthansa and hiving off Niki, a subsidiary focused on vacation travel. The strategy was to concentrate on hubs in Berlin and Dusseldorf, largely to funnel traffic to Etihad's long-haul routes. With the Gulf carrier's pullout and Air Berlin's deteriorating operations, that plan proved unviable.

Despite the turmoil, Air Berlin remains a force to be reckoned with in Germany. The carrier commands a market share of about 28 percent in Berlin, transporting more than 5 million passengers in the first seven months of 2017. It has built a major presence on routes connecting Germany with Austria and Switzerland, and is a strong player in transporting Germans to sunny vacation destinations such as Sardinia, Mallorca, and Crete.
Lufthansa doubled down on its support for Air Berlin after Tuesday's insolvency filing, saying it's already in talks to take over parts of its ailing rival and provide an avenue for employees seeking a new job. Germany's government signaled its willingness to back those plans, with Transport Minister Alexander Dobrindt saying he doesn't see competition concerns.
The past decade has been tough on Europe's former flag carriers. Some, like Alitalia SpA, have limped on under varying owners—the Italian airline filed for insolvency four months before Air Berlin—while others such as Malev of Hungary have outright disappeared. Established players like KLM, Aer Lingus and Swissair have been pulled into three giant holding companies:  IAG SA, Air France-KLM Group, and Lufthansa's own family of carriers, leaving only a few independents such as SAS Group, Finnair, and LOT Polish Airlines.
Yet Europe remains far more fractured than the U.S. That uneven global playing field is visible in projections by the International Air Transport Association, which estimated in December that almost 61 percent of the global industry's 2017 net income will come from North America. European airlines, by contrast, may see profit slump 25 percent, depressed by intense competition.
From the onset, Etihad struggled with the ownership restrictions on Air Berlin, which gave some sway over the German carrier's direction but never the full control it would have needed for a real turnaround. The same hurdle knee-capped Etihad's foray into Italy and hastened the demise of Alitalia, all but blowing up the Gulf carrier's plan to build a loose network of equity alliances that could feed global passengers into its Abu Dhabi hub.
Etihad "couldn't have picked two more insolvent companies than Alitalia and Air Berlin,'' said Stephen Furlong, an analyst at brokerage J&E Davy Holdings Ltd. in Dublin.
With billions spent on second-tier airlines and demand in the Middle East falling, Etihad ultimately decided to pull the plug on Air Berlin, and withdraw its two representatives from the supervisory board. It was an inglorious retreat for a carrier that once had high-flying ambitions to rival Emirates. With the departure last month of the architect of that plan, former Chief Executive Officer James Hogan, Etihad and its government owners are reviewing their strategy, leading to the demise of Alitalia and Air Berlin in quick succession.
For Air Berlin shareholders, there's little left to salvage from their investment. The shares, which sold for 12 euros each in an initial public offering in May 2006, have languished as a penny stock since 2015. Today, the carrier's market value stands at about 60 million euros—less than a single narrow-body Airbus or Boeing aircraft.
Before it's here, it's on the Bloomberg Terminal.
LEARN MORE