Sierra Leone Mudslide Deaths Reach 400 as Rescue Continues
By and
Rescue workers in capital face 'completely submerged' terrain

Search may continue for days, Red Cross spokesman says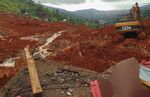 Rescue workers in Sierra Leone are searching for a second day for the survivors of a mudslide that killed at least 400 people in the capital, Freetown, while 600 others are still unaccounted for.
The mudslide that covered dozens of homes on Monday in Regent, an area on the outskirts of Freetown, and flooding throughout the city have left more than 3,000 others homeless, Abdul Nasir, a program coordinator for the International Federation of Red Cross and Red Crescent Societies, said by phone on Tuesday. Rescue efforts are hampered by a lack of equipment and the inaccessibility of the terrain, Abu Bakar Tarrawellie, a spokesman for the federation, said in a separate call.
"The expertise is inadequate and the machinery is absent," Tarrawellie said. The terrain "is completely submerged."
The disaster comes as Sierra Leone is recovering from an Ebola epidemic that killed more than 11,000 people in West Africa after it was first discovered in 2013. As one of the countries that was hit hardest by the disease, its economy contracted by more than a fifth in 2015. Growth returned last year as gross domestic product expanded by 6.1 percent, according to World Bank data.
The government has set up an emergency response center to deal with the "national tragedy," President Ernest Koroma said in comments on state TV. "Every single family, every single ethnic group, every single region is either directly or indirectly affected by this disaster," he said.
The rescue effort may continue for days as relief workers are struggling to provide shelter for displaced people, increasing chances of an outbreak of cholera or typhoid, Tarrawellie said.
"That's the fear, that there might be diseases emanating from people caught up in the mud," he said.
Before it's here, it's on the Bloomberg Terminal.
LEARN MORE