Bearish Odey Shorts Metal Stocks on China Slowdown
By
Hedge fund manager says he's bearish on Macau gaming shares

Odey looks to short euro versus dollar on U.S. tightening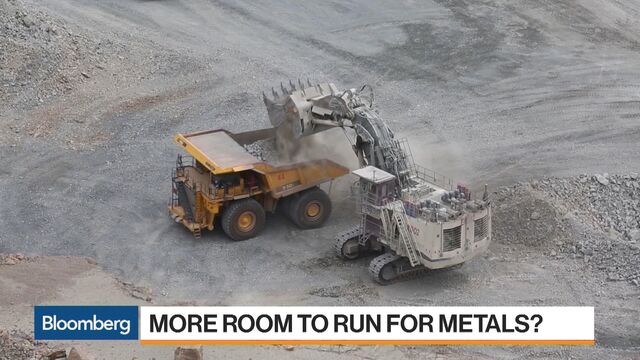 Start your day with what's moving markets in Asia. Sign up here to receive our newsletter.
Crispin Odey, the hedge fund manager who has stuck to bearish bets despite booming global markets, is shorting metal stocks in anticipation of slowing economic growth in China.
Miners from Glencore Plc to BHP Billiton Ltd. have jumped since late June, along with the prices of iron ore and steel. To Odey, the gains -- driven by China's capacity cuts -- only mask weakness in the world's largest consumer of commodities. Chinese economic growth will slow as monetary tightening takes effect, a higher base kicks in and stimulus to sustain growth before a key political meeting fades, he said.
"China's economy in a year's time will be much weaker than it is now," Odey, whose London-based firm manages about $6 billion, said in a phone interview. "What you can sense is that they've done enough for now, and probably the second half of the year is going to be weaker."
China's economic growth lost some momentum recently, as the effects of its deleveraging campaign and industrial overcapacity began to kick in. Retail sales, fixed-asset investment and industrial production all expanded at a slower pace in July than analysts expected or than in the prior month, data showed Monday.
Odey's general pessimism hasn't wavered even as rising shares took a toll on his fund's returns in recent years. His main hedge fund declined nearly 50 percent in 2016, the most since it began trading in 1992, and lost 12 percent in the first seven months of this year as markets he had expected to topple remained buoyant. Still, he maintains that the credit cycle fueled by loose monetary policy has peaked as the Federal Reserve's Janet Yellen embarks on a path of tightening.
Party On
"Let's just keep on partying -- this is exactly what it feels like at the top of the cycle," said Odey. "I'm afraid Yellen is probably right: she has got to tighten."
The money manager isn't alone in predicting pain ahead for raw materials. Academia Capital's Ivan Szpakowski said commodities from iron ore to zinc, which were pumped up by China's steel reforms, may reverse gains as growth slows.

China's steel industry trade group suggested this month that speculative buying rather than fundamental demand may have driven a price surge. An index of 18 base metals producers tracked by Bloomberg Intelligence slid last week, after rising for seven straight weeks in the longest rally since 2015. Iron ore traded near a three-week low on the Dalian Commodity Exchange on Wednesday, while the LMEX Index tracking base metals rose.
Another short position for Odey is Macau's casino stocks. A gauge of these shares jumped to a two-year high in June amid a revenue recovery in the gaming hub before retreating more than 9 percent. Capital costs at these companies are rising and growth in higher-margin mass-market gambling hasn't been that strong, Odey said. 
"They're anticipating still that you see continued recovery and I just don't see that happening," he said, referring to casino stocks' valuations.
Odey is also considering shorting the euro against the dollar amid skepticism over the Fed's tightening trajectory. The opportunity may not be here yet because U.S. investors are still piling into Europe after signs of a recovery in the region and emerging markets, he said.
Bearish bets on China have paid off for Odey before. His fund notched some gains betting against Chinese equities in 2015, amid a rout sparked by the surprise devaluation of the yuan.
The hedge fund manager has been a critic of central bank policies since the global financial crisis spurred unprecedented monetary stimulus. He warned last year that U.K. stocks could fall 80 percent after the Brexit vote; instead the benchmark FTSE 100 Index has risen 8 percent over the past year.
"The things that scare me are the people who say, hey, look, we are at the beginning of the cycle," Odey said. "But if that's true, I'm totally wrong."
— With assistance by Nishant Kumar
Before it's here, it's on the Bloomberg Terminal.
LEARN MORE