Newell CEO Is Sticking With Trump's Council 'to Have a Voice'
By
Business leaders from Merck, Under Armour have dropped out

Newell's Polk expresses dismay at events in Charlottesville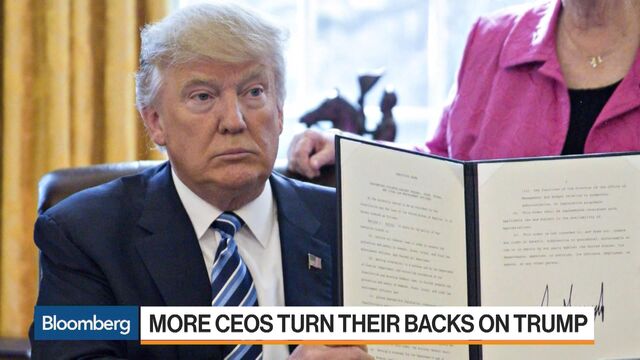 Michael Polk, one of the CEOs under fire for their membership in President Donald Trump's manufacturing council, said he will remain in the group to maintain "a voice in the conversations."
Polk, who runs Newell Brands Inc., told employees that the company's large manufacturing footprint made it important to stay involved with discussions about the industry. He also expressed dismay at events last week in Charlottesville, Virginia, which have become a lightning rod for criticism of Trump. The president was slow to speak out against white-supremacist violence in the city, and the controversy has spread to the business leaders advising him.
"I found this past weekend's events incredibly troubling," Polk, 56, said in a statement to workers. "There is simply no place in our society for racism of any kind, white supremacy or neo-Nazism. The values that form these views are intolerable and completely contrary to everything I hold true as a proud American. I reject and condemn all that hate stands for and hope that as a society, we can come together as one in this view."
Pressure on business leaders has mounted since Monday, when CEOs from Merck & Co., Under Armour Inc. and Intel Corp. all stepped down from his manufacturing council. CEOs from Dow Chemical Co., General Motors Co., General Electric Co. and Boeing Co., meanwhile, have indicated they will stay for now.
Polk, whose company sells brands such as Mr. Coffee, Rubbermaid and Sharpie, said he's committed to diversity and inclusion. But staying in the council will help it "shape policies and programs that have the potential to strengthen economic development and create jobs."
"I look forward and plan to continue to collaborate with other leaders from diverse industries, who represent a variety of perspectives and beliefs, to help shape strategies and develop policies that foster a more vibrant economy and more jobs in the U.S. and across our other geographies," Polk said.
Before it's here, it's on the Bloomberg Terminal.
LEARN MORE