Intel CEO's Dismay With Trump Attack Outweighs Value of Ties
By
Chipmaker's CEO says Washington more concerned with infighting

Company makes progress on diversity goal for U.S. workforce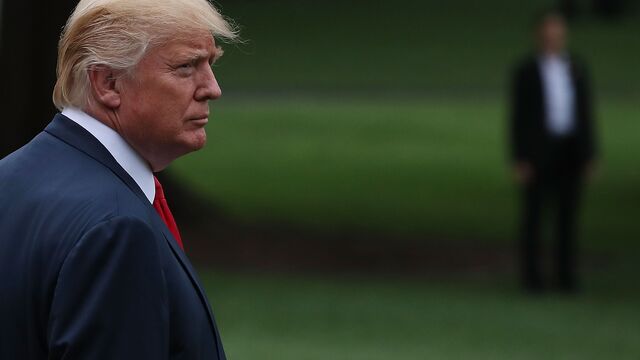 Follow @bpolitics for all the latest news, and sign up for our daily Balance of Power newsletter.
For Intel Chief Executive Officer Brian Krzanich the last straw was U.S. President Donald Trump's attack on Merck & Co. CEO Ken Frazier.
Krzanich has paid a price internally for maintaining a relationship with the Trump administration. He planned, then canceled, a meeting at his home last July for then-candidate Trump. Earlier this year, he went to the White House to announce the completion of a factory and new jobs.
The signs of support for Trump sparked criticism inside Intel aimed at its leader, according to people familiar with internal postings. In response, Krzanich was forced to explain that as the head of a manufacturing company, he needs to stay connected to those who set tax policy. Intel's manufacturing is done mainly in the U.S. The availability of tax breaks is one of the key influences on whether the multibillion-dollar plants are economically viable.
By Monday, the chipmaker's leader had seen enough. Like many others, Krzanich tweeted his frustration with the lack of forceful condemnation by political leaders of the white supremacy-related deadly violence in Charlottesville, Virginia. Then, late in the evening he posted his resignation from the White House business panel on manufacturing.
"I resigned because I want to make progress, while many in Washington seem more concerned with attacking anyone who disagrees with them," Krzanich wrote. "My request -- my plea -- to everyone involved in our political system is this: set scoring political points aside and focus on what is best for the nation as a whole."
Krzanich's decision came after Trump took to Twitter to harshly criticize Frazier and Merck for high drug prices and sending jobs overseas. Earlier, Frazier had stepped down from the White House panel as a "matter of personal conscience."
Krzanich's withdrawal from the council was also related to his doubts about the effectiveness of the body itself, according to a person familiar with his thinking.
Read more: Trump Panel Loses Fourth Executive
Also contributing to Krzanich's thinking: Intel today published its latest report on efforts to hire a more diverse workforce --- a plan that BK, as he's known inside the company, has staked his reputation on, vowing to spend $300 million on activities including the sponsorship of minority and women-run startups.
Intel, the world's largest chipmaker, was one of the first Silicon Valley companies to go public with a breakdown of the demographics of its workforce and Krzanich has set goals to bring the underrepresentation of minorities at least in line with the general employee pool in the U.S. The CEO, who has two daughters, has tied executive pay to progress on diversity and as well as creating the funds to invest in startups run by women and minorities.
Intel is making progress in achieving its diversity goal, the company said in a mid-year update released Tuesday. Women now make up 26 percent of its U.S. employee workforce and minorities are about 13 percent, the company reported. Intel said it needs to hire 801 women and under-represented minorities for its 50,000-U.S. workforce to match market availability, compared with a 2,300-employee diversity gap before the program started in December 2014.
Intel uses market availability as its standard to track diversity and inclusion at the company. Market availability measures how many skilled people exist in the external U.S. labor market as well as Intel's own internal market, according to the company.
The biggest remaining gap is in representation of African Americans, which "is flat across all grades," the company said. The shortfall in that category accounts for the majority of Intel's overall deficit, according to the report. White males and Asian males fill 90 percent of Intel's mid- to- senior technical grades.
Intel's CEO lauded the progress, but put more pressure on his employees. Intel is now aiming to match the diversity of its U.S. workforce to the population as a whole by 2018, two years earlier than its original 2020 target.
"Technology companies have talked about diversity for years, but the data show that progress has been slow," Krzanich said in his introduction to the report. "We have made progress as you'll see in the numbers. But this is critical work, and we must accelerate it, especially in the areas where we haven't come as far as we would like."
In the U.S., Intel has facilities in California, Arizona, Oregon and New Mexico, which gives it a more politically diverse workforce than other Silicon Valley companies.
Krzanich won a small victory last year for Intel's diversity effort, keeping hold of one of the highest-profile black female executive in the technology industry. Aicha Evans, who now reports to him as the company's head of strategy, was persuaded to stay at the company after planning to resign while head of the mobile phone chip unit.
Before it's here, it's on the Bloomberg Terminal.
LEARN MORE