Fear Stalks Nairobi Slum in Ugly Twist to Kenya Vote Impasse
By and
Residents blame Mungiki gang for post-election attacks

Police deny gangs being deployed to quash opposition dissent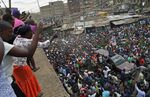 In a Nairobi slum named Lucky Summer, residents tell of being terrorized by men with dreadlocks wearing official Kenyan paramilitary uniforms who stalk the streets at night carrying machetes, clubs and guns.
The troublemakers belong to the Mungiki, a criminal gang that played a key role in ethnic fighting that followed a contested 2007 vote and claimed at least 1,100 lives, according to more than a dozen people interviewed in the hodgepodge of dilapidated apartments and shanties in the northeast of the city. The predominantly ethnic Kikuyu group's attacks on the opposition stronghold mark an ominous turn of events after last week's disputed elections.

"I was in the house with my family and I heard screams after 11 p.m.," Idah Mutembale, a 30-year-old mother of two, said in an Aug. 14 interview. "Then I heard gunshots. It's Mungiki. They came to attack us. I am afraid. I want to move with my husband and my children from this place."
While President Uhuru Kenyatta, a Kikuyu, was declared the winner of the Aug. 8 vote, his Luo rival Raila Odinga has refused to accept the outcome and is set to announce his plan to challenge it on Wednesday. Clashes between security forces and supporters of Odinga's five-party National Super Alliance have claimed 24 lives since the results were announced, according to the Kenya National Commission on Human Rights. The opposition says more than 100 people died.
The police say only 10 have been killed in Nairobi and most of them were "criminals" who were killed by officers who came under attack. They deny gangs have been deployed to quash opposition dissent. The government is still compiling information on the number of those killed during protests elsewhere in the country, Interior Ministry spokesman Mwenda Njoka said on Wednesday.
'Spreading Propaganda'
"Somebody is spreading propaganda to instill fear in our people that they will be attacked by Mungiki," Japheth Koome, Nairobi's police chief, told Nation TV. There have been "no attacks in Lucky Summer. We have officers deployed in all the areas. We have not called any member of the public to join us in managing the situation. We are equal to the task," he said.
Originally established in the 1980s as a self-defense organization for the Kikuyu, the biggest of Kenya's more than 40 ethnic groups, the Mungiki are a highly secretive organization and estimates of their numbers vary. The group was banned in 2002 as part of a crackdown on organized crime. In a report published in 2010, Jane's Intelligence Review described it as Kenya's largest criminal organization, specializing in extortion. The Mungiki styled their dreadlocks on the Mau Mau, a Kikuyu nationalist movement that fought against British colonial rule in the 1950s.
Kenyatta Appeal
Kenyatta, 55, has been personally linked to the Mungiki: the International Criminal Court accused him of ordering the gang to attack members of the Luhya, Luo and Kalenjin, the next three biggest groups, after the 2007 vote and charged him with crimes against humanity. Kenyatta, who was local government minister at the time, denied the allegation and the case was dropped due to a lack of evidence after the government refused to cooperate with the Hague-based tribunal.
Kenyatta has appealed for calm in two speeches since his re-election and said violence won't be tolerated. Fred Matiang'i, the acting interior secretary, and other senior officials have denied the authorities' involvement in stoking violence.
"Rumors of Mungiki involvement in night raids are highly politicized, given its role in the 2007-08 violence," Emma Gordon, an analyst at Bath, England-based risk adviser Verisk Maplecroft, said by email. "Stories from slum residents that Mungiki members in police uniforms carried out night raids are entirely plausible, but simultaneously these stories tie into the opposition's narrative about state capture by the Kikuyu, making them hard to verify."
Lucky Summer resident William Obura, 34, said the marauders in his neighborhood were mostly Kikuyu and he was convinced they were Mungiki members, despite being dressed in security-force uniforms. "Since when do police have Rastafarian dreadlocks and pangas and clubs and break doors to go into houses," he said.
Homes Destroyed
Elisha Ouma, 28, said he'd seen about 100 men dressed in uniforms carrying machetes lining one of Lucky Summer's dirt streets and he'd heard they were there to exact revenge for Kikuyus, whose shops and homes in Nairobi had been destroyed since the elections.
The Nairobi-based Standard newspaper on Tuesday published separate accounts by residents of Kibera, the city's biggest slum, of attacks by militants with dreadlocks suspected to be Mungiki.
Willbrode Otieno, 27, said he'd witnessed about 10 uniformed men with dreadlocks who refused to identify themselves use excessive force to enter residents' homes in Lucky Summer. 
"They want to scare us," he said. "They want to kill the Luos' passion to vote."
Before it's here, it's on the Bloomberg Terminal.
LEARN MORE