Everyone's Dumping the Pound and Real Money's Just Getting Started
By
All client types have sold U.K. currency in past two weeks

Real money still long-pound, suggesting downside risks: BofA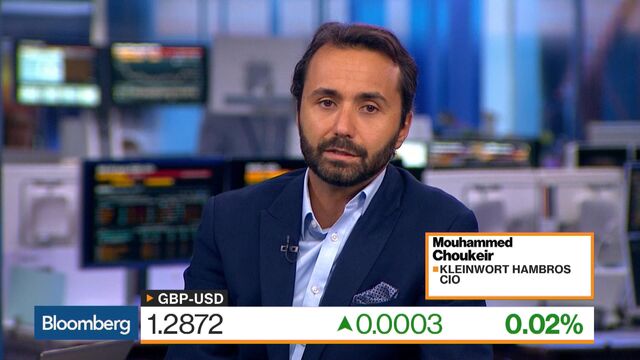 The pound remains unloved across investor groups, with real-money sales of the U.K. currency only just getting started, data from Bank of America Corp. show.
All client types -- corporate accounts, reserve managers, hedge funds and institutional accounts, like mutual funds, pensions and endowments -- have dumped sterling over the past two weeks, according to the U.S. bank's analysis of flow data.
"The overall GBP market position is neutral, but real money is long, suggesting downside risks as they have been selling in the last three weeks," quantitative strategists Myria Kyriacou and Athanasios Vamvakidis wrote in a note Monday.

BofA recommends shorting the pound, citing a lack of investor appetite to adopt long positions ahead of negotiations with the European Union over the U.K.'s exit from the bloc. The currency slumped to the lowest in almost eight years against the euro on a closing basis on Tuesday after data showed the U.K. inflation rate was unchanged at 2.6 percent in July, slightly below economists' estimates.

Bank of America's projection that pension and insurance funds are set to scale back positions in sterling-denominated assets is the flip side of Morgan Stanley's call that money managers are poised to increase exposure to the euro in the coming months, thanks to political stability in the euro area. That should spur the shared currency higher, to one-for-one against the pound by early next year, Morgan Stanley said last week.
Before it's here, it's on the Bloomberg Terminal.
LEARN MORE