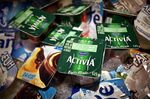 Ooh Danone.
The French dairy company has become the latest European consumer group to be targeted by an activist investor. Corvex Management has built a stake on the belief it's significantly undervalued, Bloomberg News reported on Tuesday.
On first glance, Danone ticks many of the boxes for a hedge fund looking to unlock value.
Its performance has been lackluster. Last year's like-for-like sales growth was the weakest since 1997, after a relaunch failed to revive appetite for its core Activia yogurt brand.
That doesn't instill confidence that Danone can make the most of its $10 billion purchase of WhiteWave Foods Co., the U.S. maker of dairy alternatives, already an expensive deal on conventional measures.
So there is clearly scope for Danone to be better managed, and its assets worked harder. Cost savings could also be ramped up. The company has already announced  1 billion euros ($1.2 billion) of these by 2020, but there is probably scope to go further. Wringing more synergies from WhiteWave would be another lever to pull. And there's always the possibility of carving off assets, such as the nutrition arm. 
Danone's valuation, lagging those of both Unilever NV and Nestle SA on a forward price earnings ratio, is also inviting to an agitator for change.
But there are two important caveats.
Firstly, both Kraft Heinz Co.'s assault on Unilever and Dan Loeb's purchase of a stake in Nestle prompted the companies to quickly raise leverage and return cash to shareholders.
There's less scope for this at Danone. After its purchase of WhiteWave, its net debt is forecast to be about four times its earnings before interest, tax, depreciation and amortization this year. That's high for the sector, and leaves little scope for loading up on debt. 
Of course, Danone could always pare expenditure, such as research and development spending, to try to boost returns. But that could leave the business under-invested, says Duncan Fox, analyst at Bloomberg Intelligence, weakening future prospects.

Secondly, an activist could look to create value by trying to put Danone in play. Analysts at Exane BNP Paribas believe it could be a target for Kraft Heinz, PepsiCo Inc. or Coca-Cola Co.
The conventional wisdom has always been that Danone is shielded from takeover threats because of political reluctance to see it fall into foreign hands. Now there's hope that President Emmanuel Macron's more pro-business stance could change that.
But that's not straightforward either. It's not clear whether his attitude toward French enterprise would extend to allowing a national champion to be acquired by an overseas rival, particularly one intent on cutting costs, and jobs. Just look at his government's decision to block an Italian takeover of France's STX shipyard. 
For Danone, there might be a benefit just from an activist showing up. Indeed, shares rose as much as 3 percent after Bloomberg revealed Corvex's stake.
There's no doubt the company has appeal on activist grounds. But there's work to be done to tackle the stumbling blocks to realizing value. Otherwise, Corvex could end up with yogurt on its face. 
Before it's here, it's on the Bloomberg Terminal.
LEARN MORE