Amazon Enlists Bond Market in Its Quest for Grocery Dominance
By
Company sold $16 billion of bonds for Whole Foods acquisition

Purchase of high-end chain is linchpin to Jeff Bezos's plan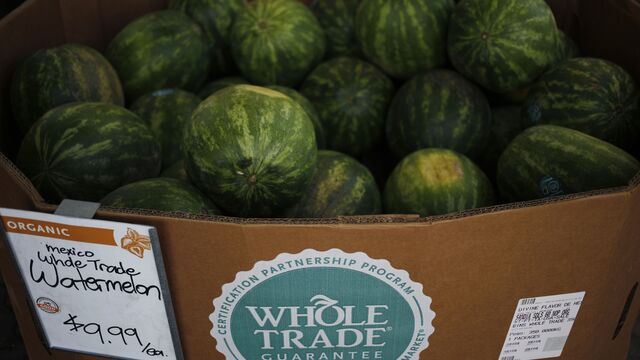 Jeff Bezos has an army full of bond investors ready to back Amazon.com Inc.'s conquest of the supermarket industry.
The world's largest online retailer sold $16 billion of unsecured bonds in seven parts to fund its $13.7 billion acquisition of Whole Foods Market Inc. And in a sign of market interest, the longest portion of the offering, a 40-year security, was sold at a yield of 1.45 percentage points above Treasuries, down from initial talk of 1.6 percentage points to 1.65 percentage points, according to a person with knowledge of the matter.
Amazon is expected to reduce prices at the iconic yet struggling high-end supermarket chain, which is trying to lure more low- and middle-income shoppers. The deal, which rattled the grocery world when announced in June, could intensify a price war in an industry beset by razor-thin margins and persistent deflation.
The debt sale marks Amazon's first bond-market foray since 2014. The company has more than $21 billion stashed away in cash and other short-term investments that could have been deployed as a bigger allocation in the acquisition financing. But Amazon needs to preserve cash, and now is an opportune time for issuers to take advantage of low interest rates, said Bloomberg Intelligence analyst Jitendra Waral.
"This route is cheaper and gives them flexibility," Waral said. "The expansion plan Amazon has gotten on with buying Whole Foods is just the beginning, not the end."
The bonds may be attractive to investors who want exposure to Amazon, but are reluctant to buy the stock, which has more than quadrupled in value over the past five years, while the S&P 500 hasn't even doubled. The share price can be volatile with investors balancing their excitement over Amazon's sales growth and dominance in e-commerce with the company's slim profits and Bezos's big spending ways. Shares have fallen about 7 percent from their July 26 record close.
Mega Deals
The e-commerce giant's trip to the debt market follows mega bond deals from AT&T Inc. ($22.5 billion) and British American Tobacco Plc ($17.25 billion), and this deal is the year's fourth biggest following a $17 billion offering from Microsoft Corp. It also comes at a time when tech companies have been active debt issuers, including a debut offering from Tesla Inc. on Aug. 11 as well as Apple Inc., which sold its first Canadian-dollar bond also on Tuesday.
Amazon, whose identity straddles between a tech and retail company, has been the source of the latter's industry's problems as consumer preferences have shifted to shopping online instead of in stores. That's what makes this offering attractive and was expected to be "very well-received," said Matt Brill, a money manager at Invesco Ltd.
"You don't want to own retail because of Amazon -- this is the the source of everyone's problems," said Brill, who planned to participate in the deal. "You get the chance to buy the category killer."
Buy Recommendation
The bond sale also earned Amazon a higher analyst rating from CreditSights, which now rates the debt as outperform from underperform.
"We are comfortable buying Amazon's bonds across the entire curve given its strong operating trends and competitive position in both its e-commerce and cloud computing businesses," analysts led by Jordan Chalfin said in a report.
Bank of America Corp., Goldman Sachs Group Inc. and JPMorgan Chase & Co. managed the bond sale, the person said.
Amazon has been an infrequent issuer in the investment-grade bond market, with only $7.8 billion of debt outstanding as of June 30. It's rated Baa1 by Moody's Investors Service and four notches higher by S&P Global Ratings.
"Despite the increase in debt, the Whole Foods acquisition is an immediate credit positive for the company on a variety of fronts," Moody's analyst Charlie O'Shea said in a report Monday, revising Amazon's outlook to positive from stable. "Whole Foods provides Amazon with greater scale and a crucial brick-and-mortar presence in a segment where it has been trying to grow."
— With assistance by Brian W Smith, Spencer Soper, and Dan Wilchins
Quotes from this Article
Before it's here, it's on the Bloomberg Terminal.
LEARN MORE