Zimbabwean Deputy Leader in South Africa After Medical Emergency
By and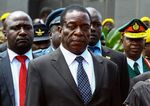 One of Zimbabwe's two deputy leaders is receiving treatment in South Africa after falling ill at a political rally over the weekend, President Robert Mugabe said.
"The vice president is still in a hospital in Johannesburg," Mugabe said Monday at a Heroes' Day function televised by the Zimbabwe Broadcasting Corp. It was the first official government statement on the health of Emmerson Mnangagwa.
Mnangagwa's condition is stable, Zimbabwe's Health Minister David Parirenyatwa told reporters in the capital, Harare, on Monday. "He is much better." He was admitted to hospital with dehydration after severe vomiting, he said.
The deputy leader became sick at a rally in the western town of Gwanda on Saturday and was initially treated in Zimbabwe, Mugabe said.
Before it's here, it's on the Bloomberg Terminal.
LEARN MORE