Zambian Opposition Leader Pleads Not Guilty to Treason Charges
By and
Trial to resume Aug. 16, as accused remain in custody

Hichilema has been in detention for more than four months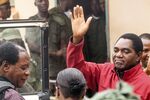 Zambia's main opposition leader Hakainde Hichilema, who has been in detention since April 11, on Monday pleaded not guilty to treason charges, according to his party.
Hichilema's trial will start Aug. 16, the United Party for National Development said on its Twitter account. Hichilema and five others that stand accused of treason with him remain in custody, News Diggers Media, a Lusaka-based website, reported, citing court proceedings.
Before the hearing began, people lined up to enter the Lusaka High Court premises amid a heavy police presence. Some foreign media companies weren't granted accreditation to cover the trial.
Hichilema was arrested and accused of trying to overthrow the government after police said his convoy failed to pull over for President Edgar Lungu's motorcade at a traditional ceremony in the west of the country. Hichilema has refused to recognize Lungu as the leader of Africa's second-biggest copper producer after a closely fought election a year ago. Lungu invoked emergency measures last month after a spate of fires the government has blamed on opposition supporters.
Before it's here, it's on the Bloomberg Terminal.
LEARN MORE