Boris Johnson Has Gone Quiet Over Brexit
By
U.K. foreign secretary has yet to discuss transition idea

Johnson's personal poll rating has declined recently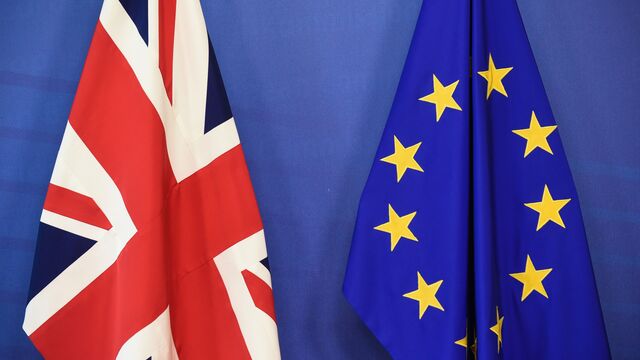 Follow @Brexit for all the latest news, and sign up to our daily Brexit Bulletin newsletter.
British Foreign Secretary Boris Johnson has gone silent for once.
The usually loquacious lawmaker has kept shtum on Brexit for a month now even as colleagues in Prime Minister Theresa May's cabinet jostle publicly over how to manage the withdrawal from the European Union that he campaigned for.
The reticence is important amid the debate over whether there should be a transitional period after Britain leaves the EU in March 2019 and, if so, how long should it run and what form should it take. Johnson, the figurehead of the Leave campaign, maintains the ability to influence some Tory lawmakers and the public, especially those who backed Brexit, so where he stands could influence what May seeks.
"There may also be an element of wait-and-see," said Wyn Grant, professor of politics at Warwick University. "Boris may well be letting other people fight it out over transition arrangements, and then when he sees the way the wind is blowing he can go with that."
Complicating Johnson's calculations is an apparent decline in his political fortunes. Once the darling of Conservative Party members, support for him as a future leader among them,fell 10 percentage points to 9 percent in August, his lowest rating ever, according to a regular survey by the ConservativeHome website. Brexit Secretary David Davis was the most popular choice, winning the backing of 20 percent.
"Now his popularity has plummeted, he may judge that the less he says, the better chance he has of restoring his reputation," said Grant.
Johnson's most recent pronouncement on Brexit suggests he supports a harder stance on the U.K.'s departure then many others around the cabinet in 10 Downing Street. In July, he declared the EU could "go whistle" if its leaders thought Britain would make a substantial payment to the bloc's budget.
Davis subsequently put in writing that a payment would be made and May's office did little to challenge a newspaper report that a sum of 36 billion pounds was possible.
An analysis by public-relations consultancy Cicero suggested Johnson is among the small group of cabinet members who want the shortest possible transition period, with restrictions on immigration and no say for the European Court of Justice. Gerard Lyons, an economic adviser to Johnson when he was mayor of London, has publicly said the transition should not exceed two years.
Johnson's recent departure from the airwaves and newspapers is rare, especially where Brexit is concerned. As he campaigned for Leave before the June 2016 referendum he frequently traveled in a bus emblazoned with the assertion that Brexit would free up 350 million pounds for the state-run National Health Service.
'In Jail'
That pledge has since been dumped by Leave campaigners, but just last week James Chapman, a former adviser to Davis, tweeted: "Let's be honest, if we had an effective electoral law leading Brexiteers would now be in jail. #wheresmy350maweekboris."
As foreign secretary, Johnson also declared Britain's approach to Brexit negotiations would be "having our cake and eating it," and in November he drew laughter in Rome by telling the Italian government that it should play nice with the U.K. or imperil sales of prosecco.
"Boris needs to get a sense of where the debate really sits and he needs to keep his cards close to his chest," said Mujtaba Rahman, managing director of Eurasia Group in London. "He'll only have a sense of that when No. 10 clarifies its preference and the cabinet has a discussion on the landing zone."
It may also be that Johnson is coming round to the idea that for Britain to achieve a smooth Brexit and a different relationship with the EU, a transition as advocated by Hammond is a price worth paying. 
"I'm sure he's totally in agreement," former Chancellor of the Exchequer Norman Lamont told Bloomberg Television Tuesday. "I'm sure he recognizes that a transitional phase is not a delaying phase, it's an implementation phase. I'd be amazed if he didn't sign up to that."
The Foreign Office in London had no immediate response when asked to comment on Johnson's silence on the issue.
"He may also be thinking about this more holistically; whether it's worth accepting a standstill transition to achieve a long-term goal of a U.K. further away from Europe," Rahman said. "It may, for him, be worth trading some things off."
— With assistance by Cat Rutter Pooley
Before it's here, it's on the Bloomberg Terminal.
LEARN MORE