Venezuelan Opposition Invited U.S. Intervention, Maduro Claims
By
Maduro calls for military exercises on Aug. 26 and 27

Venezuelan leader says Trump spurned request to talk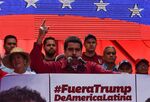 Venezuelan President Nicolas Maduro said he wants members of the opposition investigated for inviting U.S. meddling and promised a show of military force.
Maduro, a socialist autocrat, said in a televised address Monday that a so-called truth commission being established by an assembly that is rewriting the constitution should start legal action "against those who support Donald Trump's intervention."
The American president suggested last week that the U.S. was considering a military option to stop Maduro's power grab, a threat later softened by his aides.
Maduro said Trump made a major mistake, and that the Venezuelan armed forces would conduct exercises on Aug. 26 and 27. "We want peace, so let's prepare to defend it, with the tanks, the planes, the missiles," he said.
Leftist leaders in Venezuela and throughout Latin America have often used the U.S. history of intervention in the region as a way to rally support. After the late Hugo Chavez rose to power in Venezuela, Yankee-bashing became a standard point of rhetoric. Leaders point to U.S. support of dictators, military interventions -- even coups -- and the Cuban embargo set up during the height of the Cold War.
Trump's seemingly off-hand remark has given Maduro fresh ammunition. Maduro said Monday that Trump has spurned his requests to talk, but that he still hoped for dialogue.
"I respectfully asked him to talk so I could tell him some truths about Venezuela, but he reacted in this disrespectful and disproportionate manner," Maduro said.
Before it's here, it's on the Bloomberg Terminal.
LEARN MORE