Solberg Warns of Turmoil in Norway's Relationship With the EU
By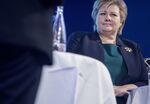 Conservative Prime Minister Erna Solberg warned of potential turmoil surrounding Norway's relationship with the European Union should the Labor Party come out ahead in next month's election.
Labor looks poised to win next month, but to secure a majority it will likely need the backing of the rising Center Party and the Socialist Left. Both of those parties have called for a renegotiation of the European Economic Area agreement, which gives Norway access to EU's internal market.
While Labor has been unequivocal in its support for the EEA, it's also important to ensure that it works properly, according to Solberg. The agreement is a living treaty, meaning it's adapted to maintain access for Norwegian businesses as EU law changes.
"Labor will have a challenge with a stronger and more ambitious Center Party and the Socialist Left in areas such as this," she said in an interview after a press conference in Arendal, Norway. "There's clearly a possibility that they can put breaks on the EEA accord that in some way will hinder Norwegian business."
Allies to Labor leader Jonas Gahr Store are also ready to start shutting production of oil and gas in western Europe's biggest petroleum producer. The Green Party could gain seats after issuing an ultimatum to a new potential Labor-led government: stop all opening of new acreage to explore for oil and gas.
"None of the big political parties can accept this," Solberg said. But "the question remains how they will use their power, there is a large degree of uncertainty about that type of alternative to Norwegian petroleum policy."
Before it's here, it's on the Bloomberg Terminal.
LEARN MORE