The Case for Bank of England Rate Hikes Is Weakening
By and
Inflation peak likely to be lower than 3%, economists say

Michael Saunders, Ian McCafferty voted for rate rise in August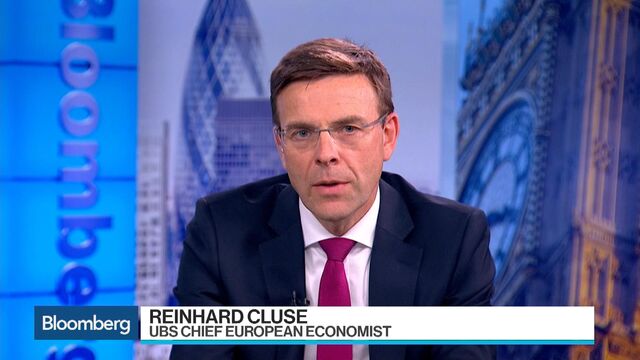 The case for the Bank of England to start raising interest rates soon is weakening.
The U.K. economy will lose more momentum this year than previously forecast and inflation's peak may be shy of 3 percent, according to a Bloomberg survey of economists, lower than an earlier estimate. Growth is likely to slow to 1.2 percent in 2018, the least since 2009, when output was shrinking.
"The U.K. economy is now locked into a moderate growth path," said Raj Badiani, an economist at IHS Markit. "Critically, the balance of risks is pointing to the south, with a higher probability of a downward rather than upward revision in the next few months."

The economy has cooled this year as accelerating inflation crimps household spending, undermining a key driver of growth in recent years. Data this week is set to show a continuation of that trend, with price growth picking up to 2.7 percent in July from 2.6 percent in June. That's faster than average incomes are rising, which is leaving retail sales struggling to gain traction.
Data
Survey
Prior
Release Day
Inflation (July)
2.7%
2.6%
Tuesday
Basic Wage growth
(April-June)
2%
2%
Wednesday
Unemployment
(April-June)
4.5%
4.5%
Wednesday
Retail Sales (MoM July)
0.2%
0.6%
Thursday
Although the headline rate of inflation is expected to remain well above the BOE's target rate of 2 percent, that overshoot is fully explained by the decline in sterling since the U.K. voted to leave the EU rather than domestic price pressures, according to Bloomberg Intelligence economists Dan Hanson and Jamie Murray.
If growth continues to be subdued and the economy maintains some spare capacity, policy makers should be able to tolerate above target inflation, the BI analysts said, limiting the chances of a rate hike this year or next. Economists now see the pace of U.K. expansion slowing to 1.5 percent this year, based on the latest Bloomberg survey, compared with the BOE's forecast of 1.7 percent.
The central bank lowered its projections for growth and wages earlier this month, and Governor Mark Carney said that uncertainty surrounding the U.K.'s exit from the European Union will weigh on consumer and business decisions. The institution sees GDP rising 1.6 percent in 2018, with investment and exports at least partially offsetting the slowdown in consumer spending.
Despite the downgrade, policy makers Ian McCafferty and Michael Saunders maintained their push for a 25 basis-point rate hike this month, which would reverse the cut put in place in the aftermath of the 2016 Brexit referendum.
Carney was among the majority voting for no change, though he said that the key rate may need to rise by a "somewhat greater extent" than investors anticipate. Economists in the Bloomberg survey see the first hike coming in the second quarter of 2019, slightly earlier than previously estimated.
— With assistance by Cat Rutter Pooley
Before it's here, it's on the Bloomberg Terminal.
LEARN MORE