Shiite Iraq Cleric Key Player in Sunni Attempts to Curb Iran
By
Moqtada al-Sadr visiting U.A.E. after Saudi trip in July

U.A.E. official says Sadr trip part of outreach to Iraq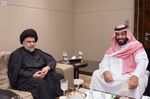 Moqtada al-Sadr, a prominent Iraqi Shiite cleric and political leader, is emerging as a key player in efforts by Saudi Arabia and other Sunni Gulf states to weaken the influence of regional rival Iran.
The United Arab Emirates flew in Sadr for talks with Abu Dhabi Crown Prince Mohammed bin Zayed Al Nahyan late Sunday. That followed a meeting with Saudi Crown Prince Mohammed bin Salman in the desert kingdom last month, another rare face-to-face visit with a senior Gulf official, in which financial aid and deeper ties were discussed, according to Sadr's website.

"Our ambition is to see an Arab, stable and prosperous Iraq," the Emirates' Minister of State for Foreign Affairs Anwar Gargash said in a Twitter post on Monday, adding that Sadr's meeting with the Sheikh is "part of the Gulf communication with Iraq."
"The promising move toward Iraq led by Prince Mohammed bin Salman with the participation of the U.A.E. and Bahrain is an example of the influence of the Gulf states once the vision and objectives are united," he said.
Later Monday, Saudi Arabia's cabinet, chaired by Prince Mohammed, approved the creation of a Saudi-Iraq coordination council that will be led, on the Saudi side, by the kingdom's trade and investment minister, state-run SPA news agency said. It didn't provide details.
Regional Rivalry
The outreach to Sadr is part of a broader Saudi-led effort to roll back Shiite-led Iran's expanding sway in the region, including in Iraq, where Shiite parties have dominated politics since the U.S. toppled the secular, Sunni-dominated regime of Saddam Hussein in 2003. As Iran's reach in Iraq, Lebanon, Yemen and other countries has grown, the regional heavyweights have found themselves on opposing sides of sectarian conflicts as well as the recent standoff over Qatar.
Saudi Arabia and the U.A.E. are attempting to return "Iraq to its Arab cultural, historical and ethnic" identity, said Mohammed Alsulami, head of the Riyadh-based Arabian Gulf Center for Iranian Studies.
There's a debate about the need to "revive and strengthen the Arab Shiite authority in Najaf and Karbala after years of systematic marginalization by Iran," said Alsulami, referring to two important Shiite centers in Iraq. Gulf states want to "thwart schemes that deliberately exploit religious sects to achieve political aims and expansionary ambitions. This may take a lot of time and effort," he said.
Sadr, who commands a large following among Iraq's urban poor and is critical of Prime Minister Haider al-Abadi's government, has denounced Iran's influence in his country. He's called for the dissolution of the state-sponsored Hashd al-Shaabi, a coalition of militias dominated by Iranian-backed Shiite fighters, which strengthened their hand in Iraq after its army collapsed confronting an Islamic State onslaught that's been largely reversed.
'What Binds Us'
Gulf states "are trying to fend off Iran's influence in the region and empower Arab Shiite forces because it's a totally self-defeating strategy to ignore countries under Iranian influence, whether it is in Lebanon or Iraq," said Sami Nader, head of the Beirut-based Levant Institute for Strategic Affairs.
"They want to show they're not against Shiites but against non-Arab Iran's influence in the region," he added.
Iran says its military involvement in neighboring Iraq was driven by legitimate security concerns, as the Sunni jihadists of Islamic State carved out a self-declared "caliphate." Since the ouster of Saddam, its bigger role offered an opportunity to influence a country whose forces invaded in 1980 in an attempt to destroy the Islamic revolution, triggering a devastating eight-year war.
Bin Zayed emphasized the importance of Iraq's stability and prosperity, according to state-run WAM news agency. "Experience has taught us to always call for what binds us as Arabs and Muslims and reject advocates of division," he added, according to the agency.
Sadr's office confirmed the visits to the Gulf on his website, and said the Saudi trip resulted in an agreement to study possible investments in predominantly Shiite regions of southern and central Iraq, sending humanitarian aid to internally displaced Iraqis and boosting ties among youths.
The Saudis will also consider opening a consulate in Sadr's base in the holy city of Najaf, and establishing air and land links between Najaf and Saudi Arabia, the statement said.
— With assistance by Abbas Al Lawati
Before it's here, it's on the Bloomberg Terminal.
LEARN MORE