Quant Manager Says Bet on Rally Outlasting North Korea Bluster
By
QMA's Campbell cites earnings growth, monetary policy

Being bearish on geopolitical risk doesn't pay, he says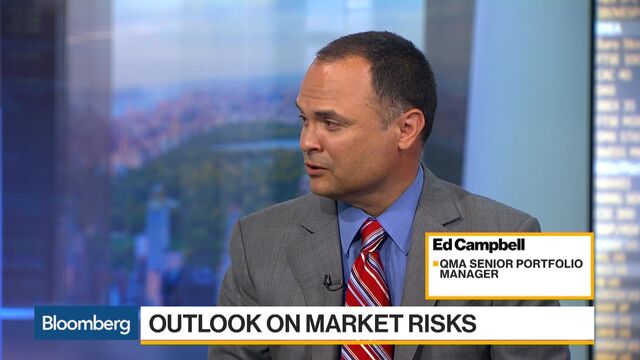 Ed Campbell, a portfolio manager at QMA, said stock investors should focus on the growth in corporate earnings rather than be discouraged by confrontational statements by the leaders of North Korea and the U.S.
"It has not paid to get overly bearish in terms of geopolitical risk," as the stock rally has endured political surprises for years, Campbell said Monday in an interview on Bloomberg Television. "I think the markets will tend to ignore it unless a threat appears imminent."
The S&P 500 jumped more than 1 percent as of 11:11 a.m. in New York, after U.S. national security officials sought to tamp down fears of imminent nuclear war. That reversed most of the index's losses from last week when President Donald Trump spoke of how the U.S. could unleash "fire and fury" on North Korea. Kim Jong Un has threatened to launch missiles toward Guam, a U.S. territory.
Markets tend to have a tough time accounting for the potential cost of low-probability events, meaning investors would do well to focus on traditional metrics, said Campbell.
'Earnings Growth'
"If you look at the high frequency economic data, strong growth in corporate profits, we're having another fine earnings season," he said. "We're likely to see earnings growth of 11 to 12 percent year on year."
QMA manages $130 billion and uses mathematical models and software to identify opportunities for institutional investors. The business is part of Prudential Financial Inc.'s $1 trillion money-management unit, PGIM.
Campbell said the Federal Reserve is likely to continue a "go-slow" approach on tightening monetary policy, providing further support to stock prices. Inflation has been trailing the central bank's target.
Still, he wouldn't be surprised if equities have a short-term drop of 5 percent or more, given that such declines often happen several times a year in bull markets. The market hasn't slumped at least that much since the aftermath of the June 2016 Brexit vote, the longest streak of that type in more than two decades.
"I don't think it's a reason to sell," he said. "If we do get a 5 to 7 percent pull-back, that would be a reason for us to be adding."
— With assistance by Jonathan Ferro, Alix Steel, and David Westin
Before it's here, it's on the Bloomberg Terminal.
LEARN MORE