Telit Shares Bounce After CEO Oozi Cats Resigns Amid Probe
By
Board expresses 'considerable anger' regarding disclosure

Finance Director Yosi Fait is to continue as interim CEO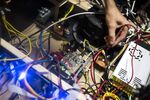 The chief executive officer of Telit Communications Plc has resigned following an internal review into a 25-year-old indictment involving a wire fraud case in Boston.
Oozi Cats stepped down with immediate effect, the U.K. technology company said in a statement Monday. The turmoil follows media reports last week that Cats is the same man as a fugitive named in U.S. court documents as Uzi Katz, who was indicted in a 1992 wire fraud.
"It is a source of considerable anger to the board that the historical indictment against Oozi Cats was never disclosed to them or previous members of the board and that they have only been made aware of its existence through third parties," Telit said in the statement.
Telit sells hardware that lets everything from vending machines to rental cars transmit data wirelessly, and has recently pegged itself to the Internet of Things -- which focuses on connectivity and electronic functionality in everyday items.
The company's stock, which reached an all-time high of 371.75 pence in April, lost more than half of its value last week as the case came to light. It fell 9.8 percent 123.75 pence at the close of trading on Friday. The shares rose as much as 12.12 percent at Monday's open in London.
Finance Director Yosi Fait is to continue as interim CEO, while the company will appoint three additional independent non-executive directors, one of whom will become chairman.
Before it's here, it's on the Bloomberg Terminal.
LEARN MORE