New Jersey Transit Delays Mount After Agency Stalls Projects to Pay Bills
By
Billions of dollars for long-term fixes go to immediate needs

Each time buses moved from flood-prone depot, it's $387,000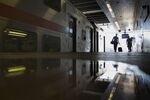 Public-transportation agencies typically ask their states and cities to ante up when they run short of funds for operating expenses like paying employees, fixing tracks or replacing worn parts.
Not New Jersey Transit.

This year, almost one-fourth of its operating budget comes courtesy of an accounting maneuver that shifts federal capital funding intended for long-term improvements to more immediate needs, according to Federal Transit Administration data compiled by Bloomberg.
The beleaguered commuter service turns to the U.S. government to cover day-to-day costs more than any of its peers, the data show. That's largely because of its budget move, which U.S. rules permit. The tactic isn't used by the Long Island or Metro-North railroads or New York City's bus system, and it was discontinued in Chicago and Philadelphia after critics said it amounted to cannibalizing major-project funding. Since 1990, NJ Transit has tapped $7.57 billion, with 45 percent of it under Governor Chris Christie.
"Seven billion dollars -- with that you can build me a tunnel, build me a third track, build me a bridge," said Joe Clift, a retired Long Island Rail Road planning executive from Manhattan who analyzes mass-transit spending and management decisions. "They are taking from the future to pay for the present, and everyone winks and nods in the process."
Unkept Promises
The transfer has kept NJ Transit afloat and allowed the state to reduce its budget support and put off unpopular fare increases. It's also left passengers livid over late buses and packed trains amid moldering promises of more suburban stops, storage yards and track connections. The operator of the nation's second-busiest commuter railroad, once hailed as a model, now is the U.S. leader for breakdowns, accidents and fines, according to Federal Railroad Administration records.
"Federal regulations have for many years allowed transit agencies to use capital funding for all eligible capital maintenance projects, such as installing and repairing engines, transmissions, wheel assemblies and associated components," said Nancy Snyder, a spokeswoman for NJ Transit. "These maintenance efforts keep our buses, trains and light-rail vehicles in a state of good repair and extend the useful life of long-term assets."

Station-Less
One of the most glaring delayed projects, in the works in North Brunswick since 2008, had a 2018 completion date.
Between U.S. Route 1 and tracks for the Northeast Corridor, the agency's busiest rail route, a residential and retail development marketed as a "transit village" is under construction on 212 acres (86 hectares) formerly owned by Johnson & Johnson. Though Christie heralded the site's doorstep to New York City train service as a jobs generator and traffic reliever, the rail portions remain at the design stage, even as residents move in to $500,000 townhouses in walking distance of Costco, Target and Panera Bread Co. Site banners beckon home buyers: "Shop. Dine. Ride. Live."

"We were under the impression that it was coming sooner rather than later," said Shane Griffin, kitchen manager of the Greene Turtle, a restaurant that opened there in January.
Shelved Projects
Plans for the new station are 30 percent done, and though more preliminary work is budgeted for this year, no construction date is set, according to NJ Transit. Elsewhere in the system, the agency has a $1.36 billion budget this year for major jobs on bridges, tracks, signals, power lines and stations.
Yet to be fully funded are a replacement station at Jersey Avenue in New Brunswick, plus an area to increase train storage by 300 percent; a yard to relieve rail-car shortages on the crowded Pascack Valley line; and a Hoboken connection to ease westbound congestion. At a bus depot in Oradell, flooding necessitates the move of more than 200 vehicles to a Bergen County shopping mall parking lot as often as six times a year, at $387,000 per occurrence. The garage is "unable to accommodate projected additional ridership," according to a 2015 federal application seeking money for a replacement.
The infrastructure-project backup is "a dagger in the heart of the economy" for a state dependent on access to Manhattan, said Senator Bob Gordon, a Democrat from Fair Lawn who is co-leading legislative hearings on the agency's declining service and finances.
"The need for federal aid means we're at the greatest risk," Gordon said. "Who knows what Congress will do, or this president, to transportation funding?"
Commuter Woes
In 2010, Christie made national headlines when he snuffed the biggest U.S. transportation-infrastructure project, an $8.7 billion, federally funded NJ Transit commuter-rail tunnel to Manhattan, citing design concerns and potential cost overruns.
The decision won him praise from government spending hawks and criticism from transportation advocates and the late U.S. Senator Frank Lautenberg, who said Christie had made one of the biggest public-policy blunders in state history.
Over the next several years, though, Christie propped up transportation spending with money that had been earmarked for the canceled tunnel. He also increasingly got Washington to cover the agency's operating costs as he reduced reliance on the state's own funds, according to annual Federal Transit Administration compilations of records submitted by the nation's 50 biggest public mass-transportation providers.
Federal Help
Christie spokesman Brian Murray referred questions about budget policy to NJ Transit.
"As New Jersey Transit's budget grows over the years, more associated costs are eligible for federal assistance," Snyder, the agency spokeswoman, said in an email. Some of the support goes to programs that include rural transportation and access for the disabled, she said.

In 2014, NJ Transit relied on federal assistance for 27 percent of its operating budget, the most among the agencies surveyed, according to FTA data. In 2015, the federal share was 26 percent, again the most, from 20 percent in 2010.
Christie also cut the state subsidy by more than 90 percent, to a low of $33 million. Last fiscal year, amid federal and state inquiries into operations and safety, including the railroad's first fatal crash in two decades, Christie brought the state share to $141 million -- a boost, though less than half its annual allotment in years past.
This year, NJ Transit is using a record $505 million of capital funds to pay for day-to-day expenses.
"It's entirely lopsided now, designed, step by step, to avoid obligations from the state's general fund," Martin Robins, retired as one of NJ Transit's founding executives, said of the agency's budgeting. The transfers, he said, are "like an addiction that never lets go."
Before it's here, it's on the Bloomberg Terminal.
LEARN MORE