Macri Candidate Leads In Key Battleground of Argentina's Primary
By
Ruling party candidate had 34.19% vs 34.11% for Fernandez

Macri's alliance had been seen losing in Buens Aires Province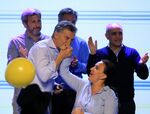 President Mauricio Macri's candidate was locked in a tie with ex-President Cristina Fernandez de Kirchner in Buenos Aires province primaries, a better-than-expected showing for Macri that reduces the threat to his project to continue opening the economy.
Initial results showed Macri's candidate, Esteban Bullrich, had 34.19 percent of votes against 34.11 percent for Fernandez with 95.68 percent of votes counted in the primary to choose candidates for the senate representing Buenos Aires province at 6:55 a.m. local time. The candidates will now face each other in the congressional elections in October.
Macri's alliance had the most votes in about half of Argentina's 24 provinces.
Read more: Gauging the Market Reaction After Primaries
Investors are treating October's legislative elections as a test of public support for Macri's efforts to open up the economy. A victory for the Cambiemos alliance in Buenos Aires province would strengthen Macri's hand in negotiations with the opposition in congress and allow him to push on with plans to reform tax and labor laws.
"Clearly Cambiemos has become a national force and managed to capture the imagination of Argentines with a dialogue of change," said Juan Cruz Diaz, managing director at the Cefeidas Group, a regulatory risk advisory firm based in Buenos Aires. "Even if Cristina wins by a little bit it won't be enough to stop the government claiming a convincing victory."
Unofficial First Round
With the economic recovery gaining traction following last year's recession, Fernandez needs to come out top in the primaries in order to prevail in October, Puente Hnos analysts Juan Manuel Pazos, Leonardo Vicchi and Bruno Gennari wrote in an emailed report.
Candidates from all parties are on the same ballot in each voting district, making the primary an unofficial first round or a poll with a large sample size. With no party or alliance capable of causing significant changes in congress's makeup, the focus is on individual battles, especially the race for three senate seats representing Buenos Aires province.
Read more: Why Do Primaries Matter in Argentina
Cambiemos scored some surprise wins, most notably in Santa Cruz province which is governed by Fernandez's sister-in-law and where she lives. Cambiemos was also leading in San Luis province, where the Rodriguez Saa brothers who govern the province haven't lost an election in 30 years.
— With assistance by Rodrigo Orihuela
Before it's here, it's on the Bloomberg Terminal.
LEARN MORE