Kosovo Partition May Solve Historic Dispute, Serb Deputy PM Says
By
Serbia would seek autonomy for Serb communities, monasteries

Dacic sees risk from 'Greater Albania,' Turkish influence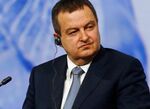 Serbia should end its claim to all of Kosovo and seek to regain control of the northern part of the breakaway province where Serbs are in the majority, Deputy Premier Ivica Dacic said in an opinion piece published by Vecernje Novosti on Monday.
In his second such appeal in two weeks and echoing calls for a compromise by President Aleksandar Vucic, Dacic said time may be running out for a settlement amid a perceived threat that an "islamicized Kosovo" may merge with neighboring Albania to create a "Greater Albania." He said he's also concerned Turkey may try to wield its influence in the region that it once controlled.
"Everybody needs a lasting solution to the Serb-Albanian conflict, which can be achieved only through an agreement in which everybody wins and loses something," Dacic wrote. A "compromise between historic and ethnic rights" would also include autonomy for Serb enclaves in southern Kosovo, Christian Orthodox monasteries in the mostly Muslim state and "financial compensation for usurped Serb property."
Conflicting claims over Kosovo territory erupted in the 1998-99 war that ended with NATO bombing that drove Serb troops out of the province. Kosovo declared independence in 2008 with U.S. backing and most European Union states. Serbia refuses to recognize Kosovo's independence, but has participated in EU-mediated talks to normalize ties, a condition for its efforts to join the bloc.
This is a "notable development, given where it comes from," said Tim Ash, a senior emerging-markets strategist at Bluebay Asset Management LLP in London. "Dacic will just argue this is real politik -- accepting the reality, and a price for Serbian EU membership."
Dacic also said any attempt to regain all of Kosovo "can be achieved only through war, which in these historic geopolitical conditions would be a lost battle."
He said his proposal is "the only realistic one, in the interest of both Serbs and Albanians, and that can be achieved quickly. It does not mean that it will be accepted, but it's my duty to say it while it's still possible."
Before it's here, it's on the Bloomberg Terminal.
LEARN MORE