JD.com's Loss Widens on Spending Boost to Drive Sales
Bloomberg News
China's No. 2 online mall expanded deeper into non-electronics

Company increased spending on marketing for mid-year promotion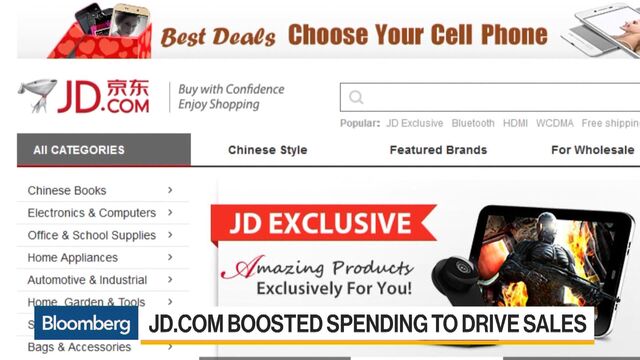 JD.com Inc. posted a wider quarterly loss as China's second-largest online mall boosted marketing spending to drive sales at its mid-year shopping promotion.
The net loss was 496.4 million yuan ($74 million) in the three months ended June, almost double the 252 million yuan loss of a year earlier. Second-quarter sales jumped 44 percent to 93.2 billion yuan, helped by a partnership with backer Wal-Mart Stores Inc. The shares fell 3.6 percent in New York.
JD.com is boosting spending to move beyond its traditional focus on electronic as it seeks a greater share of online sales against Alibaba Group Holding Ltd. and Vipshop Holdings Ltd. The Beijing-based company is investing heavily in delivery networks in Indonesia to expand into Southeast Asia while also promoting its own online shopping festival to drive growth.
"Marketing expense is up 63 percent year-on-year and that makes sense if they're going to push for the Shopping Day sales," said Kirk Boodry, an analyst at New Street Research.
Gross merchandise volume -- the total value of goods sold across its platforms -- surged 46 percent.
Shopping Subsidies
Chief Financial Officer Sidney Huang said income was eroded by increased shopping subsidies and more marketing spending to attract new customers. These costs will likely occur in the second and fourth quarters of each year as JD attempts to reinforce two "Christmas-style" shopping events on June 18 and November 11 by offering shoppers discounted products.
He expects capital spending to rise as the company expands seven large distribution hubs and distribution centers across the country. Warehouse space grew by 1.3 million square meters (14 million square feet) in the three months ended in June – roughly equivalent to more than 220 NFL football fields.
"We expect to incur more capital expenditure in the second half," he said.
The loss comes just one quarter after the company founded by billionaire Richard Liu unveiled its first quarterly net income as a public company in May, which had calmed concerns about rising spending and sent its shares almost 30 percent higher since. 
Growing middle-class spending is propping up e-commerce in general. JD's GMV hit 234.8 billion yuan in the June quarter, up from 160.4 billion yuan a year earlier. Across China, online retail sales rose 33.4 percent in the first half of 2017, according to data from State Council Information Office.
The company said it expects revenue in the September quarter to reach 81.8 billion yuan to 84.2 billion yuan, compared with the 82.5 billion yuan projected by analysts. That translates into revenue growth of as much as 39 percent, allowing JD to sustain its pace of spending on cloud and physical infrastructure.
Decrease Risks
JD said it has de-consolidated JD Finance, a unit due to be spun off that offers loans and money management services to Chinese consumers, in an effort to decrease risks for the listed company and help it gain licenses granted only to domestic businesses. The listed business will get 14.2 billion yuan from the deal and 40 percent of future pretax profits.
The strategy has largely been welcomed by investors supporting a focus on core retail businesses. The company's fleet of bright-red delivery vans and white-haired canine mascot, have rapidly become a ubiquitous sight for increasingly wealthy Chinese consumers. But the loss-making drive to sell them financial services is seen by some investors as a riskier venture.
"Since JD Finance is currently loss-making, the reorganization should pose a positive effect to the bottom line," ICBC International Research Ltd. analysts led by Martin Bao told clients in a note before the results release.
— With assistance by David Ramli
Before it's here, it's on the Bloomberg Terminal.
LEARN MORE