Jailed Barclays Libor Trader Asks for Case to Be Reviewed
By
Jonathan Mathew sent case to Criminal Cases Review Commission

CCRC accepted case of convicted Libor trader Tom Hayes in June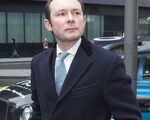 A second convicted Libor trader submitted his case to an independent U.K. criminal review body in a bid for an appeal after the panel accepted the case of Tom Hayes, who became the best known banker in the scandal.
Jonathan Mathew, who worked at Barclays Plc, referred his conviction to the Criminal Cases Review Commission -- an organization set up to investigate suspected miscarriages of justice -- in recent weeks, his lawyer said. Mathew was jailed for four years in July 2016 after being found guilty of attempting to manipulate the London interbank offered rate, a key benchmark used to value more than $350 trillion of financial products.
We "have always been convinced that the conviction is unsafe," said Matthew Frankland, Mathew's lawyer at Byrne and Partners. "We hope that the CCRC see the force in that argument and refer the matter swiftly back to the Court of Appeal."
The CCRC is a last resort for prisoners after they've exhausted their legal appeals as it is the only body that has the power to refer cases back to the courts. Mathew may be optimistic the CCRC will take on his plight after Hayes, who was the first person to be convicted by a jury over Libor in 2015, had his case accepted by the panel in June. Hayes is serving an 11-year sentence.
Mathew was convicted alongside three other former Barclays traders last year and ordered to pay nearly 35,000 pounds ($45,000). The jury couldn't reach a verdict on two other defendants, who were then acquitted after a retrial in April. The retrial raised questions about the credibility of one of the prosecution's witnesses, a point that Mathew emphasized in his petition to the CCRC. The witness is also central to a court appeal recently lodged by one of Mathew's convicted co-defendants, Alex Pabon.
The U.K. Financial Conduct Authority said last month it will phase out the key interest-rate indicator by the end of 2021 after it became clear there wasn't enough meaningful data to sustain Libor. The fact that the rate is significantly influenced by bank estimates, rather than real transactions, is what made Libor so vulnerable to manipulation.
Before it's here, it's on the Bloomberg Terminal.
LEARN MORE