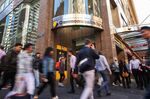 When is a firing not a firing? Ask Commonwealth Bank of Australia Chairman Catherine Livingstone.
Just six days after announcing that Chief Executive Officer Ian Narev "retains the full confidence of the board," she said Monday that the 50-year-old would be retiring within months.

That's a welcome development. Gadfly called for the board to consider Narev's future after a government lawsuit earlier this month alleged multiple breaches of anti-money-laundering laws. The problem is in the manner of the announcement.
The timing of the two events is essentially a coincidence, Livingstone said in a statement:
Succession planning is an ongoing process at all levels of the Bank. In discussions with Ian we have also agreed it is important for the business that we deal with the speculation and questions about his tenure. Today's statement provides that clarity and will ensure he can continue to focus, as CEO, on successfully managing the business.
Under repeated questioning in a call with journalists, she reiterated that while the money-laundering case made it important to "deal with the speculation" in the media, the announcement just set the seal on a process that had been going on for several years.
Maybe. Nonetheless, such an abrupt and chaotic transition -- without a successor named or obviously in the wings -- is neither Commonwealth Bank's nor Livingstone's normal way of doing business.
When the formerly state-owned company announced its first CEO transition as a fully independent business in 2005, David Murray's successor Ralph Norris was lined up and ready to go. When Norris retired six years later, Narev was named simultaneously as his replacement. When Livingstone presided over the succession of Andy Penn in her capacity as chairman of phone company Telstra Corp., the handover followed the same pattern.
This isn't just griping. Commonwealth Bank is now under a deep cloud. The governor of the Reserve Bank of Australia and the chairman of the Australian Securities & Investments Commission, or ASIC, last week made respectively oblique and direct criticisms of the company.
The money-laundering case, albeit arguably the most serious, is just the latest in a litany of allegations of sharp practice. Within minutes of Livingstone's statement Monday, ASIC announced that the bank would refund more than A$10 million ($7.9 million) to customers over a separate case of mis-selling consumer credit insurance.

Opposition politicians are seeking an independent inquiry, known as a royal commission, into banking. The country's treasurer and parliament have described the big four banks as an oligopoly, and Commonwealth Bank is the biggest beast in the jungle.
All this speaks to a cultural problem within the bank that the board needs to root out. The question is whether it can.
As the newest appointee to the 10-person board -- she took the reins only in January -- Livingstone may bear less responsibility than others. But she should turn her attentions to her fellow directors next. Just two -- Harrison Young, former vice chairman of Morgan Stanley Asia, and Shirish Apte, former chief executive of Citigroup Inc. Asia Pacific -- have extensive backgrounds in banks. Only Apte has been responsible for large numbers of retail customers. 
Andrew Mohl and Brian Long have worked respectively as chief executive of fund manager AMP Ltd. and financial services audit partner at Ernst & Young LLP, but the remaining board members are largely drawn from outside the financial sector. Narev himself worked for consultant McKinsey & Co. until just four years before he was appointed to the top job.
The way to reassure Australia's regulators and politicians, and Commonwealth Bank's customers and shareholders, would be for Livingstone to declare that the company needs a fresh start and a change of direction.
While CEO transitions require directors to be circumspect, it's hard to hear Livingstone declare "complete transparency" as one of her key requirements for Narev's successor while being so opaque about the motives for his departure.
The fish, as a former White House communications director put it recently, stinks from the head down. Monday's announcement goes some way toward clearing the air, but there's still a fug about. If Livingstone wants transparency and a strong moral compass from Narev's successor -- as she said Monday -- she should fight the war on the home front first.
Sunlight, as they say, is the best disinfectant.
Before it's here, it's on the Bloomberg Terminal.
LEARN MORE