China's Economic Speed Bump May Reignite Bond Default Wave
By
Strong first-half growth buoyed company earnings: ANZ's Yeung

Goldman says defaults may pick up as economy slows this half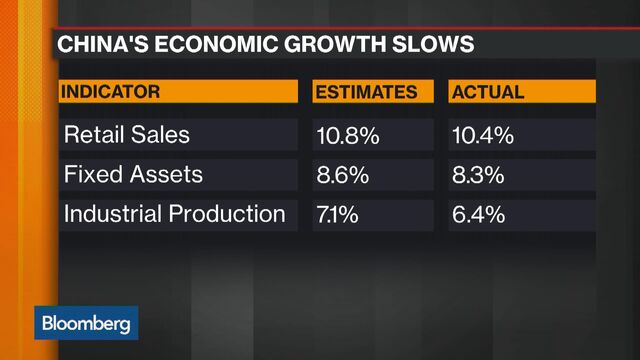 China had unexpected buoyancy in its economy to thank for an easing off in corporate defaults in the first half. But as growth shows signs of pulling back, the question is: will it last?
Despite alarm over the risks posed by China's daunting debt pile ticking up in the first six months of the year, the country actually saw a drop in corporate distress, with 0.27 percent of issuers defaulting, versus 0.55 percent in all of 2016, according to China Lianhe Credit Rating Co. Goldman Sachs Group Inc., too, saw Chinese company leverage drop in the first half.

Economists including Raymond Yeung at Australia & New Zealand Banking Group Ltd. put the improvement down to the economy, which seemed to turn a corner in late-2016. Growth accelerated in the fourth and first quarters, the first successive gains in seven years, which bolstered company earnings, says Yeung.
"The macroeconomic conditions are much more favorable to Chinese corporates compared with the same time last year," Yeung said in an interview in Hong Kong. "However, this cyclical adjustment will still face a limit. It is still too early to call the improvement a trend."
Disappointing Data
And cracks may already be forming.
Data Monday showed growth in both retail sales and factory output slackened in July, coming in weaker than economists had anticipated. In the same Aug. 4 research note in which they detailed the decline in corporate leverage, Goldman analysts including Asian credit research chief, Kenneth Ho, said defaults could pick up "as the pace of growth in the second half of 2017 slows."
Bloomberg Intelligence also sees economic momentum ebbing, read more here.
Beijing's campaign to reduce overcapacity and re-orient the $11 trillion economy away from industrial and low-end manufacturing drivers has helped fuel profit growth this year, says Xia Le, chief Asia economist at Banco Bilbao Vizcaya Argentaria SA in Hong Kong.
But it's "unimaginable" that the government will persist with the reform program while ignoring how it is affecting downstream industries, he said. "That's why I expect profit growth to slow down."
Profit Growth
China's industrial profits have had a good run, growing 19.1 percent in June. The move to cut capacity has helped bolster commodity prices such as coal, steel and cement, and the recovery in those sectors -- which saw the most bond defaults over the past two years -- means banks' asset quality is improving, Goldman analysts wrote in a note dated Aug. 3.
After the second-quarter read on Chinese gross domestic product came in better than expected, analysts boosted their forecasts for the coming quarters. The world's second-largest economy will grow 6.7 percent this year, from a previous forecast of 6.6 percent, according to a survey conducted July 17-24.
"Low housing inventory, recovering private investment, and a strong infrastructure pipeline suggest that economic growth will remain robust for the foreseeable future," said Frederic Neumann, co-head of Asian economics at HSBC Holdings Plc in Hong Kong. "Over the longer term, a further improvement of corporate fundamentals will not only depend on stable demand and cash flow, but also on structural reforms to raise productivity growth."
Builder Defaults
Bloomberg calculations put the number of corporate bond defaults at 14 in the first half, versus 17 in the same period of 2016. For the second half, the tally is already at five defaults, with Wuyang Construction Group Co. failing to pay back some principal and interest on an 800 million yuan bond puttable, which in turn triggered its default on a 560 million yuan note, according to a filing on Monday. 
ANZ's Yeung says the stronger yuan also underpinned company profits and helped stave off defaults by mitigating foreign-currency losses. The currency has gained 3.3 percent versus the dollar over the past three months but forecasters still expect it to weaken from current levels by the end of the year.
China's property sector is also losing steam, which could underpin a wider economic pullback -- read more here.

Jenny Zeng, a Hong Kong-based portfolio manager and head of credit research for Asian fixed income at AllianceBernstein Holding LP, is worried about the refinancing factor.
Chinese firms will see 3.1 trillion yuan ($465 billion) of local debt mature next year, on top of the record 5.2 trillion yuan coming due in 2017, data compiled by Bloomberg show.
"We are yet to see better earnings translating into better cash flow," she said, adding refinancing was a "key risk" faced by private companies in China going in to next year.
— With assistance by Yuling Yang, Judy Chen, and Xiaoqing Pi
Before it's here, it's on the Bloomberg Terminal.
LEARN MORE