Can Numbers Quiet Politics? In Stocks This Week, Maybe
By
Fed releases minutes, Eurozone publishes GDP data this week

Korea crisis would be "catastrophic," Defense Secretary says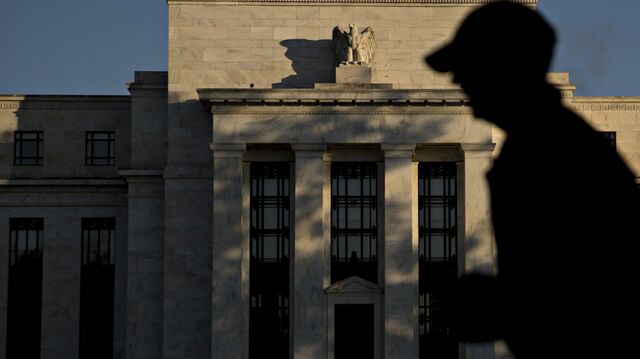 Investors seeking a respite from North Korea headlines have a shot at it this week, going by the economic news scheduled. They could use it after the S&P 500's most turbulent stretch of 2017.
While nobody knows how President Donald Trump's Twitter handle will look, markets won't lack for more conventional catalysts in the form of data from the U.S., European Union and China, according to Helge Pedersen, chief economist at Nordea Bank AB.
The S&P 500's streak of days without swinging more than 0.3 percent came to an abrupt stop Thursday when the gauge fell 1.5 percent as Trump warned North Korea over aggression. Investors rushed to options for protection as trading volume in puts and calls tied to the volatility index reached a record. Stocks in the U.S. posted the worst week since March, while global equities retreated the most since before the U.S. election.
On Monday, China releases closely monitored reports on industrial production and retail sales. On Wednesday, the Federal Open Market Committee will issue minutes from a July policy meeting that may hold clues on the next rate hike. The same day, Euro-area second-quarter GDP data is due. After a week preoccupied with geopolitical concern amid a lack of meaningful global economic data, the next five trading days may shift market attention back to fundamentals.
"As frightening as the current rhetoric is, if Trump's and Kim Jon-Un's words stay nothing more than words, the markets will figure out that this is the new normal and quickly adjust," Pedersen said by phone. "It is almost impossible to predict geopolitical risk, but if the conflict stays in a form of a war of words, the markets may shift their attention to a full-filled economic calendar."

Trump has vowed to unleash "fire and fury" on Kim's regime as it threatens to fire missiles near the Pacific island of Guam, where the U.S. has a military base. Still, there are no immediate signs that the U.S. is planning an attack. Defense Secretary James Mattis said Thursday that the U.S. is "gaining diplomatic results" and a conflict in Korea would be "catastrophic."
Here is what other analysts have say:
Terry Morris, managing director of equities at BB&T Institutional Investment Advisors in Pennsylvania:
"We might see more investors leaning toward a defensive side, which won't necessarily mean a market selloff but rather a rotation. What we can see is more money going into the quality sectors that have been lagging the growth stocks. Geopolitical risk is hard to predict, but as of now the situation around North Korea is not something that will keep me up at night."
Gina Martin Adams, chief equity strategist at Bloomberg Intelligence:
"There is a risk of fiscal policy makers coming back from break in September to deal with a looming debt ceiling along with a lot of uncertainty with the near-term direction of the Fed and the ECB." "There are a lot of policy concerns that we need to get cleared."
Bruce McCain, chief investment strategist at Key Private Bank in Cleveland, who helps oversee $35 billion:
"August is a seasonally slow month in the U.S. and Europe. Are we concerned about a situation in North Korea? Yes. Will we see an armed conflict that will send the global markets down? Probably not. Geopolitical risk is once again on investors' radar, but between the looming debt ceiling and uncertainty over the ECB's bloated balance sheet, it's not the biggest thing global investors worry about."
Before it's here, it's on the Bloomberg Terminal.
LEARN MORE