politics
Dual-Citizenship Furor Ensnares Australia's Deputy Leader
By
Joyce says he may be a New Zealander, refers matter to court

Constitutional confusion on heritage continues in parliament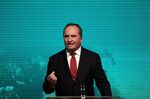 Australia's Deputy Prime Minister Barnaby Joyce said he may be a dual citizen, which potentially bars him from serving in parliament and could jeopardize the government's razor-thin majority.
Joyce, 50, said on Monday he'd been advised by the New Zealand High Commission that he may be a citizen by descent. He won't step down as deputy leader and will refer the matter to the High Court, which technically bars dual-citizenship holders from holding a seat in the national parliament.
"Needless to say I was shocked to receive this information," Joyce, who was born in Australia after his father emigrated from New Zealand, told parliament. "I've always been an Australian citizen."
Read more on Australian lawmakers' citizenship confusion
Joyce is the highest profile lawmaker caught up in questions over citizenship, with four of the country's 76 senators also referred to the High Court. As a member of Prime Malcolm Turnbull's one-seat majority coalition in the lower house, he's also the most important: should he be ruled ineligible to hold his seat in the district of New England, a by-election would be called.
The confusion over the lawmakers' citizenship is an unwelcome reminder of the chaos that's seen Australia change prime minister five times in the past decade. It's also a distraction for Turnbull, who is seeking to focus on economic growth and national security issues as his Liberal-National government trails in polls before an election that must be held by 2019.
Currently minister for agriculture and leader of Turnbull's junior coalition partner the Nationals, Joyce took on responsibility for resources last month after Senator Matt Canavan resigned from the Cabinet amid evidence he may have Italian citizenship. Two Greens senators quit last month after they said they held dual citizenship, while an upper-house lawmaker for anti-immigration party One Nation has also been referred to the High Court.
While Joyce's court date is yet to be set, the government aims to clarify the High Court's position on dual nationality lawmakers in Canavan's case, which will be heard from Aug. 24.
"The Australian people must have confidence in our political system and resolving uncertainty is vital," Turnbull said in a letter on Monday addressed to Bill Shorten, leader of the opposition Labor party. He later told parliament: "The leader of the Nationals is qualified to sit in this house and the High Court will so hold."  
Labor's Shorten, who insists his party doesn't have any dual nationals after conducting thorough background checks, called for Joyce to step down from his Cabinet positions pending the High Court judgment.
Legitimacy, Integrity
"This is is an incredibly serious development -- it goes to the legitimacy and integrity of your government," Shorten said in a written response to Turnbull. "It is manifestly in the national interest for the matters in regards to these individuals to be determined by the High Court as soon as possible."
Section 44 of the constitution, written when the former British convict colony became an independent nation in 1901, disqualifies people from becoming federal lawmakers when they are "a subject or a citizen or entitled to the rights or privileges of a subject or a citizen of a foreign power."
While nearly half of Australians nowadays were either born in a different country or have at least one of their parents hailing from overseas, changing the constitution to reflect current demographic trends would require approval from a majority of voters in most of Australia's states via a compulsory ballot. Only eight of 44 national referendums have been successful.
"We're now getting into quite complex questions of law and the interpretation of Section 44, and whether there's any flexibility in that interpretation," said Gabrielle Appleby, a constitutional lawyer and associate professor at the University of New South Wales in Sydney. The constitution stating that ability to be a lawmaker in Australia rests on foreign laws is an "unsatisfactory position," she said.
Joyce famously clashed with Johnny Depp and the actor's then-wife after they used a private jet to bring their Yorkshire terriers, Pistol and Boo, into Australia for a movie shoot without submitting quarantine documents.
He captured global headlines in 2015 when he threatened to euthanize the dogs and said they shouldn't be exempt from quarantine laws just because Depp had been voted "the Sexiest Man Alive twice." Depp later labeled Joyce "some kind of sweaty, big-gutted man from Australia."
Joyce was heckled again on Monday; during a statement he made to parliament, Labor opponents bleated at him in a cheeky reference to New Zealand's reputation for its sheep industry.
"Unwittingly or not, he is a New Zealand citizen," that nation's Prime Minister Bill English told reporters on Monday. "It's a matter for the Australian system to decide how Australian law applies in his case, and how they deal with the issue."
(
Updates with Shorten's comment in ninth paragraph.
)
Before it's here, it's on the Bloomberg Terminal.
LEARN MORE