Argentine Markets Heave Sigh of Relief as Fernandez Falters
By and
Ex-president failed to win majority in Buenos Aires Province

Bonds rallied, CDS tumbled, peso and stocks surged on results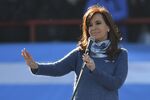 President Mauricio Macri's program to overhaul the Argentine economy after more than a decade of import controls and currency restrictions received a boost Sunday when his party's candidates did better than expected in nationwide primaries. The Argentine peso, stocks and bonds all rallied.
Argentines gave the president's coalition a vote of confidence as the economy begins an incipient recovery after Macri overturned capital controls, scaled back costly subsidies and resolved a decade-long battle with holdout creditors. The ruling coalition Cambiemos led in the primaries in about half of 24 provinces ahead of congressional elections Oct. 22. 

Read more: Why Do Primaries Matter in Argentina
Even in the Peronist stronghold of Buenos Aires Province, Cristina Fernandez de Kirchner was tying with Macri's candidate with 95.68 percent of the votes counted, defying opinion polls that gave the former president a comfortable lead. Concern had mounted over the past few weeks that a strong showing might embolden Fernandez to run again for president in 2019, jeopardizing Macri's market-friendly reforms. The peso dropped 10 percent after she announced her run in June.
"These results reassure investors that her chances of becoming president again are extremely remote at this stage," said Kevin Daly, a portfolio manager at Aberdeen Asset Management, which manages $11 billion in its global emerging market debt fund. "It would really take a collapse over the next several years in terms of the economy for her to regain any kind of momentum."
Daly, whose fund is overweight Argentina, said he might look for opportunities to add exposure in the country, especially in peso-denominated bonds, which were among those affected by market jitters ahead of the primaries.
Markets rallied on the news. 
Peso rose 3.1 percent to 17.12 pesos per dollar, the strongest in four weeks. 
Shares, especially in the banking and energy sectors, rose as much as 14 percent, pushing the Merval index 4.2 percent higher to a fresh record
The sovereign yield spread over U.S. Treasuries narrowed as much as 27 bps to 4.24 percentage points, according to JPMorgan Chase & Co.'s EMBIG diversified index
Argentina Midterm Primaries: Gauging the Market Reaction Monday

Macri's coalition may be able to secure a third of Congressional seats in October, according to a note by JPMorgan Chase & Co. That would help the government to move forward on fiscal reforms, they said.
"The Argentine public unequivocally supported the president and his 'change' platform in the whole country, and surprisingly so in Buenos Aires," Alberto Bernal, chief emerging market and global strategist at XP Securities Lllc, said in a note to clients. "A decisive win by the Macri coalition this upcoming October will materially increase the governability of President Macri and his chances of being reelected come 2019."
— With assistance by Pablo Rosendo Gonzalez, and Rodrigo Orihuela
Before it's here, it's on the Bloomberg Terminal.
LEARN MORE