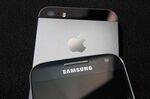 Apple and Samsung are the Coke and Pepsi of smartphones in the U.S. Can anyone break their lock on the market? 
Nearly three-quarters of Americans with smartphones use an Apple or Samsung device, research firm comScore estimates. The U.S. isn't the world's biggest smartphone market; China is bigger and India soon will be. But the U.S. is crucial because Americans buy an outsize share of the pricey smartphones that generate the biggest profits. 
A number of companies have ambitions to challenge the smartphone Coke and Pepsi. Huawei, the top smartphone seller in China, reached a tentative agreement with AT&T to sell its high-end phone in the U.S. for the first time, according to technology news publication The Information. The technologist who created Android hopes to soon sell a new brand of ceramic-and-titanium shelled smartphones. And Amazon is spreading the gospel of smartphones for as little as $50 from a company called Blu. 

It will be difficult for any of these companies to challenge Apple and Samsung now that Americans have settled into smartphone habits. But there have been successful upstarts in other relatively mature product categories. Dollar Shave Club challenged the giants in men's razors, and Under Armour did the same in fitness apparel.
Some companies might be happy with finding a profitable smartphone niche. But for challengers that want to sell a material number of smartphones, here are three strategies they can try:
1) Advertise like crazy. The first rule of consumer technology is it's not enough to have a different or great product. Palm's WebOS, Microsoft's Windows Phone and Amazon's 2014 Fire smartphone each had some clever ideas. All were flops. (Windows Phone still exists for some reason.)
None of these companies went as far as Samsung did to make itself one of the country's smartphone stars. Starting in 2011, Samsung unleashed a clever and expensive advertising campaign to persuade Americans to buy its phones. Samsung's ubiquitous ads mocked iPhones as boring and stressed features including large-sized screens that Apple didn't have at the time.
The company did other things behind the scenes, too, but the marketing campaign was most responsible for making Samsung a hit. The company sold about 10 percent of U.S. smartphones in 2010, and now its market share is roughly 30 percent. Any company that wants to crack the U.S. smartphone market needs to do a lot of courting and cajoling to get shoppers out of their ruts.
2) Find a desperate partner: Phone companies sell the vast majority of smartphones in the U.S., which makes them vital allies for new smartphone kids on the block.
Back in the infancy of the smartphone era, only AT&T sold the iPhone. This drove Verizon crazy, so the company struck a deal in 2009 to start selling this new thing called an Android smartphone from Motorola and other companies. Verizon's eagerness to counter AT&T's iPhone exclusive was an important factor in Android's success as a smartphone operating system.
Fast forward to today and there are two cable TV giants, Comcast and Charter, that are starting to sell mobile phone service. Those companies might like to offer cool (or cheap) smartphones that its rivals don't have. If it worked for Verizon and Android, it could work again.
That's why it's smart for Huawei to negotiate with AT&T to make sure a brand unfamiliar to Americans has a powerful backer. It's not enough, of course. Mobile phone stores are chock full of smartphone models, and most people still walk out with an Apple or Samsung phone. But having a wireless phone company that is motivated to push a new brand is key to smartphone success.
3) Try direct sales, but have a hook: The Android founder Andy Rubin has said he believes times are changing and more Americans will buy smartphones from retail outlets including Amazon rather than relying on a mobile phone company. He's probably right, but habits will shift slowly. And to persuade people to buy the $700 Essential phones Rubin will need to gin up awareness of his new brand (see No. 1 above). 
It turns out Amazon is already persuading many shoppers to buy unfamiliar phone brands. All it took was crazy low prices. Amazon says its top-selling smartphones include ones from the Florida-based phone manufacturer Blu, which Amazon sells for as little as $50 and come loaded with Amazon-sold advertisements and Amazon smartphone apps. It helps to have low prices and the powerful Amazon pushing Blu phones front and center to shopping masses. 
The status quo in U.S. smartphones can change. Until a few years ago, people typically paid $200 for a smartphone that was heavily subsidized by the phone company. That's over now, and most Americans pay full freight for a $700 iPhone. Getting more Americans to choose something other than an Apple and Samsung phone won't be impossible. It's merely almost impossible.
Before it's here, it's on the Bloomberg Terminal.
LEARN MORE