Domestic Consumption Fuels Surge in Japan's Economic Growth
By
GDP expansion in the second quarter exceeded all forecasts

Private consumption and business spending both improved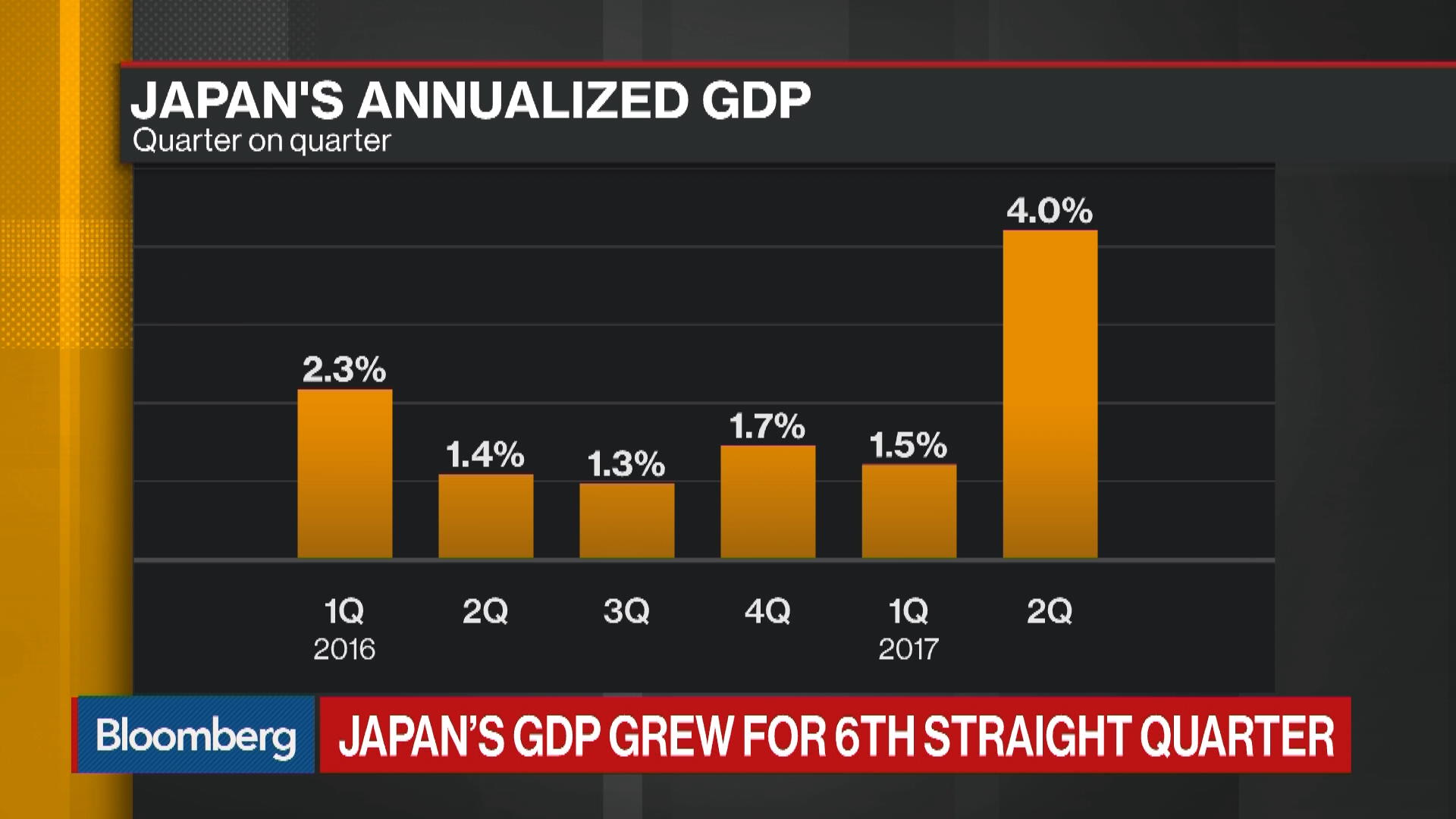 Start your day with what's moving markets in Asia. Sign up here to receive our newsletter.
Japan's economy grew for a sixth straight quarter, extending the longest expansion in more than a decade, as a strong pick-up in demand at home compensated for softer exports.
Highlights of GDP report
Gross domestic product increased by an annualized 4.0 percent in the three months ended June 30 (estimate +2.5 percent), compared with a revised 1.5 percent in the previous quarter.
Private consumption rose 0.9 percent in the second quarter from the previous three months (estimate +0.5 percent).
Business spending advanced 2.4 percent (estimate +1.2 percent).
Net exports, or shipments less imports, subtracted 0.3 percentage point from GDP. 
Key Takeaways
The last time Japan strung together this many quarters of growth was back in mid-2006, during the government of then-Prime Minister Junichiro Koizumi. Should the economy extend the run of expansion into this quarter, it will be the best performance since 2001. After more than four years under Prime Minister Shinzo Abe, the yen has fallen, corporate profits have soared and the economy is running above its potential growth rate. Yet inflation remains stubbornly low, despite massive monetary stimulus from the central bank. Economists are watching intently for signs that the tightest labor market in decades is beginning to bring wage gains.
In light of the good result, the government isn't considering any new economic measures at the moment, according to Economic Revitalization Minister Toshimitsu Motegi. He said the effects of previous rounds of stimulus are clear from the strong growth.
There is a risk that the surprisingly good data released on Monday may be substantially revised, if history is anything to go by.

Economist Views
"The strength of domestic demand stands out, especially individual consumption, which was better than I had expected," said Masaki Kuwahara, senior economist at Nomura Securities in Tokyo. "Spending appetite has improved as rising stocks added to the wealth effect, although incomes haven't increased much."
He cautioned that it may be difficult for spending at this pace to continue if wage earners don't see bigger pay checks.
"Exports seem to have passed their peak and will slow down as the global economic recovery is heading for a pause," said Kuwahara.
Bloomberg Intelligence
Bloomberg Intelligence economist Yuki Masujima notes in his analysis that the strong GDP reading -- which see the economy growing well above its estimated 0.8 percent potential growth rate -- may put a floor under Prime Minister Shinzo Abe's tumbling approval ratings. It could also give the Bank of Japan another reason to keep monetary policy on hold while inflation gets some traction, said Masujima.
"A shift in growth drivers from external demand to domestic engines eases the risks to growth from increasing yen safe-haven demand -- especially amid nuclear brinkmanship between North Korea and the U.S.," according to Masujima. "An increasing positive output gap is likely to add to price pressure -- with inflation likely to edge closer to 1 percent in 3Q, in Bloomberg Intelligence Economics' view. That would aid the BOJ's reflationary efforts."
Other Details

Measured quarter-on-quarter, GDP rose 1.0 percent (estimate +0.6 percent).
Private inventories had zero contribution to GDP.
Public investment increased 5.1 percent in the second quarter.
The GDP deflator, a broad measure of price changes, fell 0.4 percent from a year earlier.
— With assistance by Tomoko Sato, Yoshiaki Nohara, and Isaac Aquino
Before it's here, it's on the Bloomberg Terminal.
LEARN MORE