politics
Argentina Primaries Too Close to Call in Key Battleground
By
Argentines vote in primaries ahead of legislative vote in Oct.

Big lead for ex-President Fernandez could send peso tumbling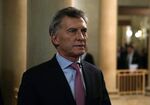 Exit polls were too close to call a winner in the primary race that will give Argentine President Mauricio Macri a good indication of the risks to his reform program and ex-President Cristina Fernandez de Kirchner whether she can return to the country's political mainstage.
After polls closed at 6 p.m. (5 pm EST), Macri's Cambiemos alliance was leading in Buenos Aires city and in the provinces of Cordoba, Mendoza and Santa Fe, the country's most populous areas, according to an exit poll by local television channel TN. Argentines voted to select senators and lawmakers to stand in legislative elections of Oct. 22. Candidates from all parties are on the same ballot in each voting district, making the primary an unofficial first round or a poll with a large sample size. The first official results are expected to be announce after 9 p.m. local time.
With no party or alliance capable of causing significant changes in congress's makeup, the focus is on individual battles, especially the race for three senate seats representing Buenos Aires province, where Fernandez is pitted against Esteban Bullrich, Macri's former education minister. A big lead for Fernandez would raise the specter of her running for president in 2019 and would be interpreted as a rejection by voters of Macri's program of reforms, potentially sending bonds and the peso tumbling.
How do markets view the elections, click here.
A lead for Bullrich or even an advantage of less than 3 percentage points for Fernandez would be interpreted as a win for Macri, said Leonardo Chialva, a partner at Delphos Investment in Buenos Aires.
Macri's party, Cambiemos, "are competing with unknown candidates" in a district which has often been hostile to them, Chialva said by email. A lead of 2 percentage points, "is a defeat for a figure such as her running against a 'nobody'."
Fernandez announced in June she intended to run for a seat in congress, pledging to fight against several of President Macri's reforms, in particular the end of certain gas and electricity subsidies and the impact on small and medium-sized manufacturing companies from lower trade barriers. Since she first launched her plans for a comeback, the Argentine peso has lost 8.6 percent, the most among currencies tracked by Bloomberg.
(
Updates with exit poll forecasts in first paragraph.
)
Before it's here, it's on the Bloomberg Terminal.
LEARN MORE