TuneIn Raises $50 Million to Prove Online Audio Can Make Money
By
Funding round is led by Marker, IVP and Comcast Ventures

Latest deal is said to value company at about $500 million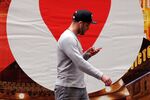 TuneIn Inc., the online radio company, has raised $50 million to fund its growing portfolio of programming for a paid service that rivals Sirius XM Holdings Inc., the dominant player in satellite radio.
The deal values TuneIn at about $500 million, according to a person with knowledge of the matter who asked not to be identified because the terms are private. Marker LLC, IVP and Comcast Ventures led the funding, which also included Sequoia Capital, Causeway Media Partners LLC and General Catalyst Partners LLC. The company has raised $140 million to date.
TuneIn will use the money to pay for rights to live sporting events and original programming like podcasts and music shows, which will help the company sign up more customers for a two-year-old subscription service. Paying subscribers can listen to live streams of games from major U.S. sports leagues, as well as foreign sports. Two-thirds of TuneIn users hail from outside the U.S.
"Two years ago we launched a premium subscription with a play by play of every game from every league, home and away, with worldwide rights for every connected device," Chief Executive Officer John Donham said in an interview. "It turns out those deals are not cheap. We're excited about building a subscription base. But in the mean time, we're paying for that content."
Founded in 2002, San Francisco-based TuneIn offers thousands of radio stations on demand for free to more than 75 million users. Fans of talk radio, sports and music can find their favorite stations and sample offerings that are unique to TuneIn, such as a temporary station for the Outside Lands music festival and an interview with reggae star Damian Marley.
Paying Listeners
The company needs more of those listeners to pay for its premium service, which adds audio books, live sporting events and commercial-free music channels for $9.99 a month. The company, which isn't yet profitable, declined to say how many paying customers it has.
"The paid consumption will grow quickly and those dollars will get invested right back into content," Donham said.
TuneIn is out to prove that talk, news and sports radio are about to experience the same online growth seen in music and TV. Spotify, Pandora Media Inc. and Apple Music have nursed the music industry back to health and replaced CDs and radio as the dominant means of listening for millions of people.
Most news, sports and talk radio is still consumed via terrestrial or satellite radio in the car, but a new crop of consumers is eager to listen to shows using their phone or connected home device, such as the Amazon Echo, said Kevin Straley, TuneIn's chief content officer.
"There's an influx of new listeners that are using new devices to consume audio, and we want to be serving the best packaging of content for them," the former XM Satellite Radio executive said.
Unlike music services, which must hand over the majority of their revenue for royalties, TuneIn pays a flat fee for rights to its programs, much like Sirius XM. So costs don't rise in lockstep with new customers.
"Satellite radio is one of the most profitable businesses in the world," Donham said. "The model under which we operate has a very clear path to profitability versus most in streaming audio space."
— With assistance by Alex Webb
Before it's here, it's on the Bloomberg Terminal.
LEARN MORE