Merkel's Bloc Holds All the Coalition Options in Latest Poll
By
German CDU/CSU may be in better negotiating position: HSBC

Merkel returns to public eye Friday ahead of Sept. 24 vote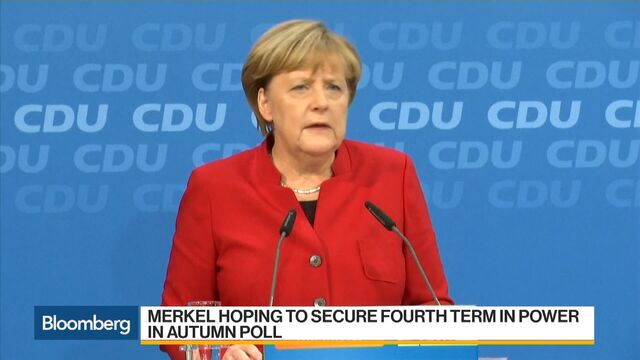 Chancellor Angela Merkel's bloc has a variety of coalition options after next month's election while her main Social Democratic Party challenger's possibilities of forming a government are fast disappearing, according to the latest poll of voting intention.
Merkel's Christian Democratic Union-led bloc has 40 percent support compared to 24 percent for the Social Democrats led by Martin Schulz, the FG Wahlen poll for ZDF television published Friday showed. The Greens and Free Democrats, both potential partners for the two main parties, had 8 percent apiece, as did the anti-capitalist Left party.
Those scores -- unchanged since early July -- suggest both that support may be hardening six weeks out from the Sept. 24 vote, and that Schulz has no option to keep his party in government apart from a repeat of the so-called grand coalition in which the SPD served as junior partner since 2013.
Merkel, on the other hand, is within reach of being able to ally with the Free Democratic Party with which she governed in her second term, or with the Greens; she could also opt for a three-way alliance with both parties, as in the northern state of Schleswig-Holstein.
"At a federal level, forming such coalitions is difficult due to opposing attitudes on some key topics," HSBC economists Rainer Sartoris and Stefan Schilbe said in a note to clients this week. "That said, the CDU/CSU might be in a better negotiating position compared to four years ago, because it may have several feasible coalition options."
The anti-immigrant Alternative for Germany party, known as the AfD, also had 8 percent in the poll, meaning it is on course to win Bundestag seats for the first time. However, all the main parties have said they won't invite the AfD into a coalition.
Before it's here, it's on the Bloomberg Terminal.
LEARN MORE