pursuits
Gamblers Apparently Think McGregor Could Really Beat Mayweather
By
Sports books will owe record payouts if the MMA star wins

At William Hill, 79 percent of money wagered favors McGregor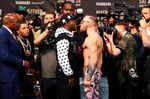 On paper, Floyd Mayweather should make quick work of Conor McGregor when the two fight in Las Vegas later this month. Mayweather's a 49-0 boxing champion with titles in five weight classes; McGregor is a mixed-martial arts star with no professional boxing experience.
Gamblers' money, however, is on McGregor. While Mayweather is still the favorite, bettors have overwhelmingly backed McGregor to win -- odds that opened as high as 11-1 (a successful $100 bet yields $1,100) have been cut by more than half. At one sports book, 95 percent of bets and 79 percent of the money taken favors McGregor. Meanwhile, the odds on Mayweather is getting better, down to 1-6 from 1-25.
Lopsided or not, the fight has drawn widespread interest. McGregor is the biggest star in a rapidly growing sport with a passionate fanbase. He's also 29 -- 11 years younger than Mayweather, who hasn't fought since he retired two years ago.
The bout is on pace to set a Nevada record for fight betting, passing the money gambled in 2015 when Mayweather fought Manny Pacquiao. Official financial reports from Nevada Gaming Commission don't break out boxing, but WestGate SuperBook Vice President Jay Kornegay estimated that between $30 and $35 million was bet on that fight. Mayweather-McGregor should "easily surpass" that, he said.
As a result, the oddsmakers are facing heavy liability. As it stands Friday, William Hill would owe clients $2 million if McGregor wins (and win only about $400,000 if he loses). That exposure could reach $5 million by fight night, according to Joe Asher, head of William Hill U.S., a record for their liability on a single event.
At South Point's sports book, where 15 out of every 16 bettors put money on McGregor, the liability is currently at $500,000. MGM, co-owner of the arena where the fight is taking place, is also bracing for a large loss should McGregor win.
Bettors who want to back Mayweather may be waiting to place their bets, hoping to see the odds shrink even further. South Point took a $50,000 bet on Mayweather on Thursday, and Asher said William Hill got a call this week from someone looking to bet $500,000 on the boxing champion.
"Typically the late money is on the favorite," Asher said. "But it won't get us anywhere close to even."
Before it's here, it's on the Bloomberg Terminal.
LEARN MORE