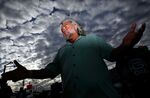 Viacom Inc. had its turn. Now investors are beating up on Discovery Communications Inc., but it's gone too far.
Discovery's stock, which was coming off of a tiny rebound in 2016, is back to being a loser this year with declines of 16 percent for its class A shares and 18 percent for its class C shares. (This is a John Malone company so one can never have too many tickers.) Almost a fifth of the analysts who cover the owner of TLC and other cable channels recommend cutting the stock and instead buying its larger rivals, such as 21st Century Fox Inc. and CBS Corp.

Investors are following suit: Short interest in Discovery is more than five times the average for its peers, according to financial analytics firm S3 Partners. And even with the share price this week at its lowest since February 2012, short-sellers seem to be pretty confident that Discovery is headed lower still: 

The Viacom-level hatred is a bit puzzling in this case because Discovery just announced a very smart deal for Scripps Networks Interactive Inc., owner of the HGTV channel among others and a gem of the TV industry. A significant portion of Discovery's sell-off this year has occurred since the transaction was made public on July 31, so the increased pessimism is surprising and overstated. 
It's true that on the day the deal was announced both companies reported weak second-quarter results, which isn't a great way to kick off a $14.6 billion merger. But their pitch is that they'll be stronger together, which is also true. The acquisition will immediately and meaningfully increase earnings, and to understand the multiple strategic benefits, see my column from May. As far as the takeover price is concerned, having a rival suitor in Viacom may have made the deal cost more, but Discovery's prospects look a lot better with Scripps than without it.
TV networks almost across the board are struggling to keep their ratings up, save for the top news channels. Even HGTV, which beat CNN last year, has seen viewership shrink. Discovery's ratings have largely been down for a while. Still, the entire industry is in a transition period as all the programmers try to figure out their way around -- while also elbowing their way into -- potentially less-profitable skinny streaming packages.
There are already too many offerings being launched, which for now will do more to confuse consumers than to answer their calls for cheaper and simpler alternatives to traditional cable TV. The emerging chaos is unsustainable, and as it gets sorted out over the next couple of years, networks like HGTV will still be standing. As it is, 1.5 million people watched HGTV in the week ended Aug. 6, and that was an 11 percent improvement over the same period last year. 
It's been a very odd week as far as M&A goes in the cable and media industries. Billionaire Patrick Drahi reportedly wants to buy Charter Communications Inc., a $120 billion U.S. cable giant that's about triple the size of his Amsterdam-based Altice NV. Many seem perfectly willing to accept that Altice (or some other debt-laden company) could actually acquire Charter. Why can't they get behind this entirely sensible merger of Discovery and Scripps?

And if Charter -- or any of the other giants -- do turn to even more extreme mergers in their quest for world domination (remember Charter already swallowed Time Warner Cable), then all the more reason to like a Discovery-Scripps merger.
Before it's here, it's on the Bloomberg Terminal.
LEARN MORE