Chinese Regulator Launches Probe Into Tencent, Weibo and Baidu
Bloomberg News
Regulator investigates reports of content law violations

Users have reported instances of porn, violence and rumors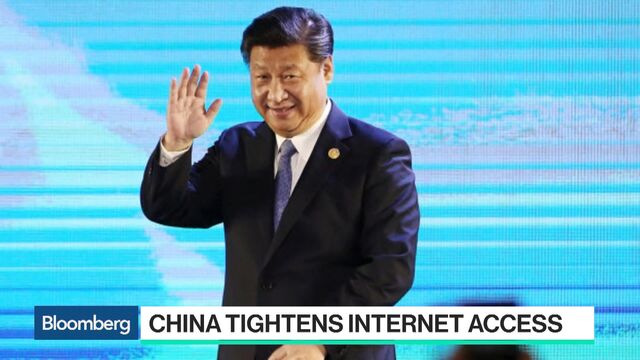 Start your day with what's moving markets in Asia. Sign up here to receive our newsletter.
China's online watchdog has launched an investigation into reports of multiple violations at news services run by Tencent Holdings Ltd., Baidu Inc. and Weibo Corp., as the government continues to tighten scrutiny over internet content.
The Cyberspace Administration of China said Friday it's instructed its Beijing and Guangdong branches to look into reports that some of the country's largest online services are carrying user-generated content laden with "violence, porn, rumors" disruptive to social order. It didn't specify what actions may be taken. Tencent, Baidu and Weibo said in separate statements they will cooperate with the government on removing questionable content and rectifying any issues.
China has applied increasing pressure over internet media in the run-up to an important Communist Party congress later this year that is expected to consolidate President Xi Jinping's authority. Intent on muzzling potential sources of disruptive information, the government has shut livestreaming services and websites, tightened regulations governing internet access, and issued repeated warnings about the need to clean up content through various agencies. Observers say the enhanced scrutiny is also characteristic of Xi's administration.
Welcome to Xi's Net: Where Politics, Porn and Pooh Are Forbidden
The latest probe centers on three of the country's largest repositories of online musings, all with hundreds of millions of users: Tencent's WeChat messaging service, Weibo's Twitter-like blog and Baidu's "Tieba" forums. Last month, Beijing scrubbed memorial photos of Liu Xiaobo from WeChat and Weibo, following the long-imprisoned Nobel Peace Prize-winning writer's death in mid-July. Liu was an author of Charter 08, a document calling for democracy in China, and Beijing aimed to smother that intellectual legacy.
Tencent's shares fell almost 5 percent, their biggest drop in a year and a half. But that stemmed in part from a continuation of an overnight tech-stock selloff in the U.S., and investors taking money off the table ahead of Tencent's earnings report on Wednesday.
"The government will conduct such checks every year and I don't see this having any impact on the long-term development of the company," said Yujie Li, an analyst with RHB Research Institute. "People use WeChat and Weibo not for such illegal information, so I don't think this probe will affect the companies."
— With assistance by Lulu Yilun Chen, Yuan Gao, and David Ramli
Before it's here, it's on the Bloomberg Terminal.
LEARN MORE