climate-changed
California Sues for Answers About Pruitt's EPA Stewardship
By
Ex-Oklahoma attorney general frequently fought agency he leads

California AG wants to know steps taken to ensure impartiality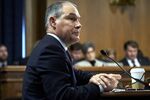 Follow @bpolitics for all the latest news, and sign up for our daily Balance of Power newsletter.
California Attorney General Xavier Becerra sued the U.S. Environmental Protection Agency to compel it to say what steps were taken to ensure its rule making and procedures remain impartial even as it's led by a man who opposed the EPA in at least a half dozen lawsuits while serving as Oklahoma's attorney general.
Scott Pruitt took over the agency in February after six years as Oklahoma's top law officer. During that time he was among the first to legally challenge the Clean Power Plan, President Barack Obama's initiative to substantially wean the U.S. off fossil fuels by 2030. He also participated in challenges to EPA rules aimed at reducing smog-causing ozone and methane as well as curbing other power plant pollutants.
"Upon his swearing in at EPA, Administrator Pruitt became the head of the agency responsible for implementing the very same rules that he had been working to overturn just moments earlier," Becerra said in a lawsuit filed Friday in federal court in Washington, D.C.
Becerra is seeking a court order compelling the agency to respond to his state's Freedom of Information Act request for records showing what steps EPA took to ensure Pruitt's compliance with federal ethics rules and who can assume Pruitt's powers in the event he's disqualified from participating in a matter or recuses himself.
President Donald Trump has directed federal agencies to reduce regulations, contending they're an impediment to economic growth. Earlier this year, litigation over the Clean Power Plan was put on hold at Pruitt's request for a review of the underlying regulations. On Thursday, the same Washington-based U.S. appeals court rejected an industry request to reconsider its July ruling that EPA had no authority to unilaterally suspend Obama-era methane regulations while reviewing those measures.
The agency, which had 20 business days to respond to California's April 7 request with at least a description of the scope of the records it would turn over and what it would withhold, hasn't done so, according to the California complaint.
An EPA spokeswoman said Friday the agency reached out twice to California officials to let them know it was working on a response to the information request.
"It's unfortunate that California is suing the agency, draining resources that could be better spent protecting human health and the environment -- rather than working with EPA's career staff, as they can gather all the information requested," spokeswoman Liz Bowman said in an email.
The case is State of California v. U.S. Environmental Protection Agency, 17-cv-1626, U.S. District Court, District of Columbia (Washington).
(
Updates with EPA spokeswoman in seventh paragraph.
)
Before it's here, it's on the Bloomberg Terminal.
LEARN MORE