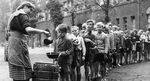 European Central Bank President Mario Draghi has pulled off something of a miracle in the euro zone economy. Five years after saying he'd do "whatever it takes" to save the euro, he appears to have engineered a Goldilocks economy, running not too hot and not too cold.
With expectations running high that the central bank is poised to slow its quantitative easing program, Draghi has averted a repeat of the bond market taper tantrum that saw Treasuries lose $1.5 trillion in a fortnight in mid-2013 when the Federal Reserve first hinted it would take its foot off the accelerator.

That decline in yield comes even as the ECB increasingly strays from the so-called capital key, the rules that determine how much of each euro nation's debt it buys. Italian and French bonds are increasingly favored over German debt, according to data compiled by Bloomberg's Stephen Spratt.

The central bank shortfall in bunds since April is more than 1 billion euros; the corresponding overshoot for Italian debt is almost 4 billion euros. That happily coincides with Italy's banks offloading about 30 billion euros of domestic government debt in May and June, according to Jefferies economist Marchel Alexandrovich.
Italian banks are finally making progress on reducing the non-performing loans that have burdened their balance sheets for years. That in turn means they need to hold less government debt -- hence the increase in Italian bonds available for the ECB to purchase -- and also bodes well for the broader economy.

It's not just government bonds that are enjoying just-right porridge. Corporate bonds denominated in euros are seeing stellar demand; the high-yield sector of the market looks increasingly misnamed.

More than 60 percent of euro debt with lowly BB credit ratings now yields less than U.S. government debt of comparable maturities, according to data compiled by Bank of America Merrill Lynch.
The ECB's decision to cut its deposit rate to -0.4 percent in March last year has driven down what customers in the euro zone can earn by leaving money in their bank accounts. That's pushed individual investors into corporate bond funds; based on the flows seen so far this year, Bank of America expects a record $100 billion to flow into European high-grade credit funds in 2017, handily beating the previous top of $65 billion in 2014.
What could go wrong? Draghi may still fumble his tapering announcement, which could come at the Jackson Hole central bank gathering later this month, or at the next ECB policy announcement on Sept. 7, or even the subsequent meeting in October. The Fed, meantime, needs to be careful in how it announces its plans for balance-sheet reduction, which is likely to come when it sets policy on Sept. 20. A spike in Treasury yields would be hard for European bonds to ignore.
But for now, Draghi can enjoy his summer holiday, safe in the knowledge that the bond market is trusting him and his institution.
Before it's here, it's on the Bloomberg Terminal.
LEARN MORE