Finance
With 'Zombie' Directors, It's the Board of the Living Dead
Sometimes shareholders vote them out. That doesn't mean they leave.
By and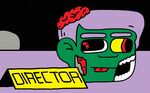 Nell Minow, an expert on corporate governance, calls them the zombie directors. They're board members who've failed to get a majority of shareholder votes in elections but continue to serve. From 2012 to 2016 there were a total of 225 instances where directors of public companies got less than half the votes cast, but only 44 directors, or 20 percent, left within the next election cycle, according to a Bloomberg analysis of data from ISS Corporate Solutions Inc. The directors who stayed included 30 who were snubbed by shareholders more than once.
"You either participate in capitalism or you don't," says Minow, vice chair at ValueEdge Advisors, which works with institutional investors on governance issues. She says too many companies "pretend there is this right to replace the board when they don't represent the interest of the shareholders" but don't follow through.
Boards are under pressure from investors to be more responsive to concerns like executive pay and diversity, as big index fund managers such as BlackRock Inc. and State Street Corp. have started to vote directly against some directors. As recently as 2011, a majority of directors were elected with a standard known as plurality—meaning they needed more votes than any other candidate. Since board members often run unopposed, just one positive vote could be enough.
In response to investor and activist complaints, companies have been agreeing to new standards under which directors who don't receive a majority of votes have to submit a letter of resignation. Currently, 54 percent of companies require a director to do so. The hitch: The board usually isn't required to accept those resignations and can reinstate the unelected director.
Since 2012, that's happened five times for John Yearwood, the lead director at oil and gas driller Nabors Industries Ltd., and four times for his fellow board member Michael Linn. Father and son real estate investors Barry and Adam Portnoy have been voted off two boards on which they sit, according to the data, a total of seven times combined. Nabors and the Portnoys' companies didn't return requests for comment. In each case, the directors reviewed the voting results and chose not to accept the resignations, citing their colleagues' value to the company, according to regulatory filings. "It's a really hollow victory for shareholders if they get what they want and then the companies just completely ignore any results that don't fit in with their worldview," says Paul Hodgson, an independent corporate governance consultant.
BOTTOM LINE -
Despite a push for change, even directors who don't win more than half the votes cast by shareholders usually get to stay on the board.
Before it's here, it's on the Bloomberg Terminal.
LEARN MORE