U.S. Stocks Need a New Leader as Tech, Energy, Financials Sink
By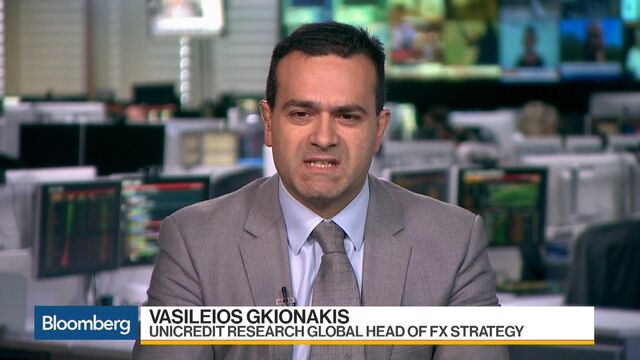 The equity market needs a new sprinter to take the baton.
After months of nearly seamless rotations of leadership between technology, on one leg, and energy and financial shares on the other, all three are trading well to the downside as of 1 p.m. in New York.

An equal-weighted basket of the Financial Select Sector SPDR Fund (ticker XLF) and Energy Select Sector SPDR Fund (XLE) became the most negatively correlated on record compared with the PowerShares QQQ Trust Series 1 (which tracks the Nasdaq 100 Index) in June -- a testament to the handoffs between the two groups as broad equity benchmarks marched to fresh highs.
But that relatively clear negative relationship between the daily change in the two groups over the past 21 sessions, which had effectively been serving to suppress implied equity volatility at the index level, appears to have deteriorated.

Over 35 sessions, from late June through early August, XLE, XLF and QQQ only posted a down day once. If current pricing holds, Thursday will mark the third session out of six that all three ETFs closed in the red.
Before it's here, it's on the Bloomberg Terminal.
LEARN MORE