U.S. Strikes Target Islamist Militants in Southern Somalia
By
African nation's government says senior fighter was killed

U.S. has stepped up involvement in war-torn country this year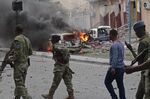 U.S. forces conducted two strikes on al-Qaeda-linked fighters in southern Somalia that the Horn of Africa nation's government said killed a senior militant.
The attacks took place Thursday near the Benadir region, U.S. Africa Command said in a statement, without giving further details. Somalia's government said President Mohamed Abdullahi Mohamed authorized a "coordinated operation with international partners."
The unidentified man killed was a "high-level" leader of the al-Shabaab group responsible for bombings and assassinations in the capital, Mogadishu, the Information Ministry said in an emailed statement. There was no immediate independent confirmation of the strikes.
The U.S., which already supported Somalia's battle against al-Shabaab with drone strikes, has stepped up involvement this year, in May announcing the first death of a U.S. service member in combat there since 1993. Al-Shabaab has been waging an insurgency since 2006 in a bid to impose its version of Islamic law. While its fighters were forced out of Mogadishu in 2011 by Somali and African Union forces, they still conduct regular attacks.
A suicide bomber detonated himself and killed at least one other person in Mogadishu on Friday after he was prevented from entering a mosque where senior army officials were attending prayers, Aidid Ahmed, an officer at the scene, said by phone.
Before it's here, it's on the Bloomberg Terminal.
LEARN MORE