Trump Taps McConnell's Ex-Energy Adviser to Lead Regulator
By , , and
Chatterjee says appointment as chairman will be temporary

With quorum restored, agency set to break project gridlock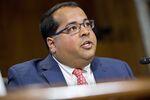 President Donald Trump tapped Neil Chatterjee, who helped coordinate attacks against power-plant emissions rules as a senior adviser to U.S. Senate Majority Leader Mitch McConnell, to lead a federal agency that oversees energy markets and approves pipelines.
Chatterjee, who was named chairman on Thursday of the Federal Energy Regulatory Commission, said he will take over the reins on a temporary basis until Kevin McIntyre, Trump's pick to head the agency, is confirmed. Chatterjee was sworn in as a commissioner at the agency earlier this week, along with Robert Powelson, a past president of the National Association of Regulatory Utility Commissioners.
"I am honored that President Trump has designated me as Chairman of the Commission until Kevin McIntyre is confirmed, and I am eager to take on this responsibility," Chatterjee said in a statement.

With quorum restored, the regulator is set to break a gridlock that has mired $50 billion worth of energy projects for months. Progress on dozens of natural gas pipelines and export projects have been stalled since February when the commission's former chairman resigned. The agency will resume monthly open meetings on Sept. 20.
Chatterjee, a Kentucky native, is replacing Cheryl LaFleur, a Democrat whom Trump had picked to temporarily lead the commission. As a senior adviser to McConnell since 2009, Chatterjee helped to devise his strategy for challenging the Obama Administration's Clean Power Plan, a sweeping regulation that sought to curb emissions from power plants. Like McConnell, Chatterjee has been a vocal defender of Kentucky's ailing coal industry, telling Bloomberg in 2015 that his home state was his first priority when advising the Republican leader.
The agency is already evaluating whether it should make changes to the rules governing wholesale markets, given recent changes in the electricity sector. LaFleur in May held a conference looking at whether the agency should take any action to integrate state nuclear subsidies into power markets.
Before it's here, it's on the Bloomberg Terminal.
LEARN MORE