politics
Trump Says He Hasn't Considered Firing Mueller Despite Scorn
By and
President says his time is "working with" special counsel

Comments come after criticism of Sessions, McCabe, Comey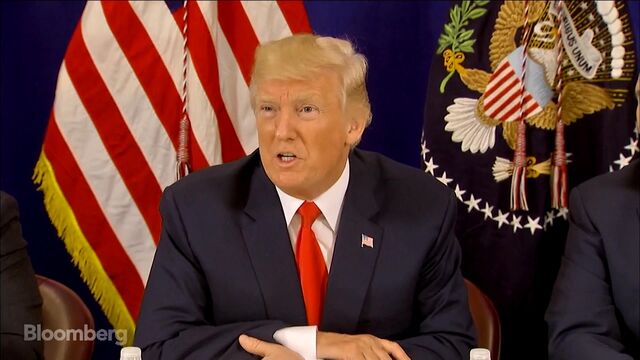 Donald Trump said he hasn't thought about firing Robert Mueller, the special counsel whose investigation into Russia's meddling in the 2016 election is now examining some of the U.S. president's family members as well as current and former aides.
"I haven't given it any thought," Trump told reporters Thursday when asked if he wants to fire Mueller. "I'm not dismissing anybody."
Pressed further, Trump said "We're working with him."
The more conciliatory tone toward Mueller comes after months in which Trump publicly fumed about the Russia probe and made statements suggesting he might look for ways to dismiss, or at least undercut, the special counsel.
On Twitter, Trump has suggested that Mueller and members of his legal team have conflicts of interest because of donations to Democratic political candidates. In a New York Times interview last month, he said Mueller has "many other conflicts that I haven't said, but I will at some point." He's also criticized Attorney General Jeff Sessions as "weak" for recusing himself from involvement in the inquiry.
But with decades of experience in Washington, Mueller has broad bipartisan support.  Republican and Democratic senators have proposed legislation that would require a judicial review of any attempt to remove a special counsel. With Sessions recused from the probe, any effort to oust Mueller would require the consent of deputy Attorney General Rod Rosenstein. In Senate testimony in June, Rosenstein confirmed it would be his responsibility to fire Mueller if there was cause, adding that he wouldn't follow orders to do so without justification.
The investigation has dominated much of Trump's presidency, entangling top White House officials and family members of the president. Trump has long slammed the Russia probe as a "witch hunt," "fake news" and a "total fabrication." He didn't back down from that criticism Thursday, saying, "They're investigating things that never happened."
Read a QuickTake Q&A on how a grand jury fits into the Trump-Russia probe
Mueller has started using a federal grand jury in Washington to help collect information in his investigation, in addition to one he was already using in Alexandria, Virginia. A grand jury helps prosecutors determine whether to bring criminal charges or indictments against a defendant. It can issue subpoenas for documents, and witnesses who testify are under oath and can be prosecuted for not being truthful.
Trump did acknowledge on Friday that some people around him may have done "something wrong" by not filing the right legal papers.
Manafort in Focus
Paul Manafort, who was chairman of Trump's presidential campaign until his resignation in August 2016, has become one of the central figures in the investigation into whether any of the president's associates colluded in Russian interference in the election.
FBI agents raided Manafort's home in Alexandria last month. Along with Manafort, investigators are looking into the activities and financial dealings of Trump associates, including his son-in-law Jared Kushner and former National Security Adviser Michael Flynn.
Trump said he was surprised by the FBI raid and he hadn't spoken to Manafort "for a long time, but I know him."
"I've always found Paul Manafort to be a very decent man," Trump said, adding that his former campaign chief "probably makes consultant fees from all over the place."
Both Manafort and Flynn had to retroactively register as foreign agents for previous work they did for foreign governments. While failing to register as a foreign agent is a crime, it's seen as being the least serious offense that Mueller is investigating, according to people with knowledge of the probe.
(
Updates with background on Trump statements, remarks on Manafort beginning in fourth paragraph.
)
Before it's here, it's on the Bloomberg Terminal.
LEARN MORE