Today's Selloff Is Testing One of 2017's Top Stock Trades
By
Growth names had outpaced value at fastest rate since 2009

Decline in growth shares exceeding the retreat in value stocks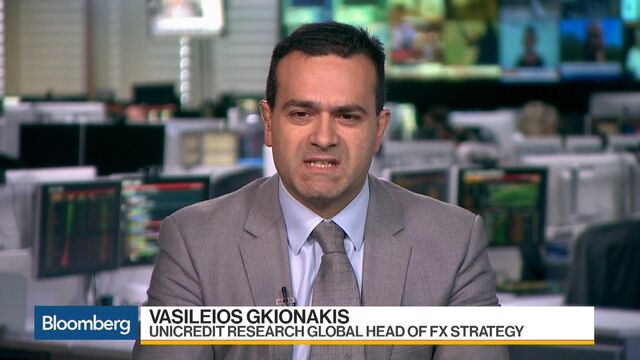 Since the post-election "Trump-reflation trade" hit a wall at the start of the year, there's been one trade that investors in the equity market could count on: buying shares of companies with the best outlook for earnings growth. 
Stocks in the Russell 2000 growth index rallied 15 percent this year before Thursday. Relative to a 3.5 percent gain in value stocks, it's the biggest advance for those shares over any eight-month stretch since 2009, according to data compiled by Bloomberg.
Today that trend has gone sideways, with growth stocks falling as much as 1.48 percent, compared with a 0.92 percent decline in value shares and currently on pace for the worst day in six weeks.
"In an environment like today where people are shedding risk, they probably want to sell the stuff they own the most, and if they're overweight high-flying growth shares that's what they'll dump," said Alex Bellefleur, head of global macro research and strategy at Pavilion Global Markets in Montreal.

The Russell Growth Index is dominated by tech and consumer discretionary companies, two of the worst-performing sectors on the day, down 1.9 percent and 1.1 percent respectively.
More specifically, a 7.5 percent selloff in Dick's Sporting Goods Inc. is especially weighing on the index after an analyst cut his profit outlook for retailer, as is a 7.5 percent slide in Acadia Pharmaceuticals following a poorly received quarterly update.
Investors' love for growth stocks has probably gotten ahead of itself this year, according to Bellefleur, who says better-than-expected inflation and economic growth could cause money managers to favor value stocks as was done in the months following the November election. 
Federal Reserve Bank of New York President William Dudley on Thursday cautioned that "it's going to take some time" for inflation to rise to the central bank's 2 percent target even as he offered a generally positive outlook for the U.S. economy, job market and price stability.
Before it's here, it's on the Bloomberg Terminal.
LEARN MORE