pursuits
Macy's, Kohl's Renew Fears of Intractable Retail Slump
By
Retailers are contending with sluggish foot traffic, discounts

At Macy's, new CEO is pushing unique products in comeback bid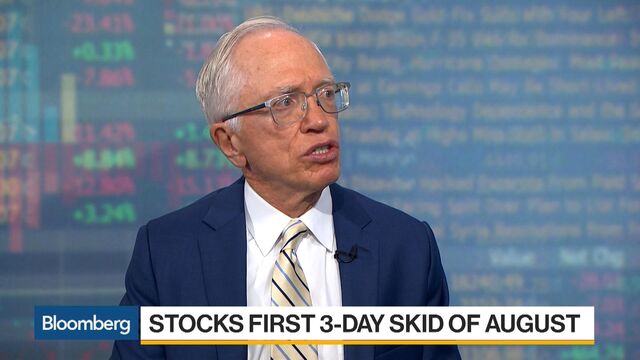 A fresh round of sales declines at Macy's Inc. and Kohl's Corp., though less severe than Wall Street had feared, is renewing concerns that the department-store industry can't pull out of a crippling slump.
Shares of both retailers declined on Thursday after the quarterly results failed to assure investors that a comeback was taking hold. Same-store sales -- a key measure -- dropped 2.5 percent at Macy's and 0.4 percent at Kohl's.

The tepid reception from investors ensures that Macy's new chief executive officer, Jeff Gennette, will remain in the hot seat. In the role only since March, he faces shrinking foot traffic in malls, deepening discounts by competitors and a declining customer base. Despite the challenges, Macy's is vowing to reach its earnings goals by slashing costs and revamping its marketing strategy.
"Our eyes are open," Gennette said in an interview. "We recognize how competitive the landscape is -- we're not going to rest. We have a very big half in front of us."  
Still, investors are skeptical that Macy's can deliver on its goals.
"While the second quarter was less bad than the first quarter, we do not believe it is enough to impress the market," said Paul Lejuez, an analyst at Citigroup Inc., citing a "very weak" sales-gross margin equation.
Kohl's has been performing better, but it too has struggled to snap a string of same-store sales declines.
Shares of Macy's fell as much as 10 percent to $20.72 after its report was posted, the biggest intraday decrease in three months. The stock had already slid 36 percent this year through Wednesday's close.
Kohl's rallied in the wake of its results, though it soon fell into negative territory. The stock declined as much as 11 percent to $37.50 in New York trading, its worst performance since January.
Dillard's Dives
Dillard's, a department-store chain operating in 29 states, sank as much as 16 percent to $61.50 after posting a surprise loss in its second quarter. CEO Bill Dillard blamed the result on "significant markdowns" and a pileup of merchandise. Its inventory rose 2 percent by the end of the period.
Macy's reported earnings of 48 cents a share in the second quarter, excluding some items. Analysts had predicted 45 cents on average in the period, which ended July 29. The average estimate for same-store sales was a drop of 3 percent, according to Consensus Metrix.
For Kohl's, analysts had predicted a 1.5 percent decline in same-store sales.

Macy's is focused on pricing as the year goes on. With customers less brand-loyal than ever, Gennette said that prices -- and margins -- may be lower than last year in some businesses where Macy's sells the same goods as other retailers. To offset that, the company is adding differentiated products that shoppers are willing to pay more for.
"We're really recognizing that the customer is really smart about seeing value," Gennette said. "Sometimes it's going to take a discount to get there, but sometimes they see the ticket and know the value."
New fashion trends for the back-to-school season could give Macy's a boost, as the company gets more than half its sales from apparel. A surge in denim and more patterns -- like florals and camouflage -- could convince customers to buy, said Poonam Goyal, an analyst at Bloomberg Intelligence.
"There's improved momentum from the first quarter," Goyal said. "They're doing everything they can -- they just need to regain that momentum and the traffic."
(
Adds CEO's comments starting in the fourth paragraph.
)
Before it's here, it's on the Bloomberg Terminal.
LEARN MORE