Kerry Urges Kenyans Not to Protest Election Results on Streets
By
Opposition has said hackers gained access to election system

Preliminary results show incumbent in commanding lead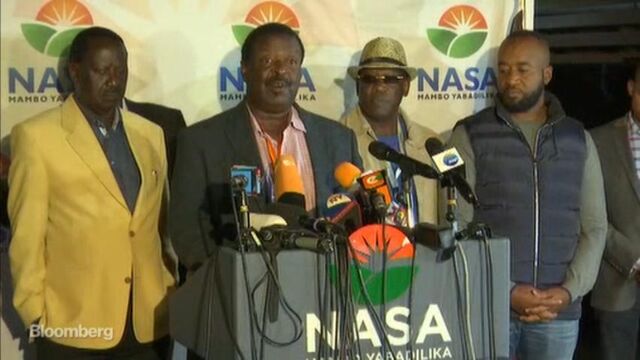 Former U.S. Secretary of State John Kerry urged Kenyans not to take to the streets to protest the outcome of the country's elections and said politicians should work within the rule of law to resolve any dispute.
"We affirm with conviction that the judicial system of Kenya and the election laws make full and adequate provisions for accountability for this election," Kerry, co-lead of an observation mission by the Carter Center, told reporters in the capital, Nairobi. "The streets do not."
Opposition leader Raila Odinga has described results giving incumbent President Uhuru Kenyatta a commanding lead as "fake" and said hackers gained access to the election computer system by using the identity of the electoral agency's technology manager that was murdered before the election. The Independent Electoral & Boundaries Commission has denied that the voting system was hacked.
The controversy sets the stage for a repeat of election-related violence that left at least 1,100 people dead after a disputed 2007 vote. While Odinga, who's lost three previous presidential elections, has asked his supporters to remain calm, he's said he has no power over their actions.
Preliminary results from 40,019 polling stations of 40,883 show Kenyatta has 54.3 percent of the vote, compared with 44.8 percent for Odinga, according to the IEBC's website.
"The bottom line is that we believe the IEBC put in place a detailed, transparent process of voting, counting, reporting and securing the vote, all of which lend significant credibility and accountability and therefore can, when and if followed to the end, provide confidence in the results," Kerry said.
Before it's here, it's on the Bloomberg Terminal.
LEARN MORE